Spend a cozy fall evening surrounded by students, faculty, staff, friends, and soon-to-be-friends! The 6th annual Harvest Feastival is a long table dinner featuring fresh, local food from the UBC Farm. The dinner, happening September 26th, is then followed by an evening of arts and culture programming around campus.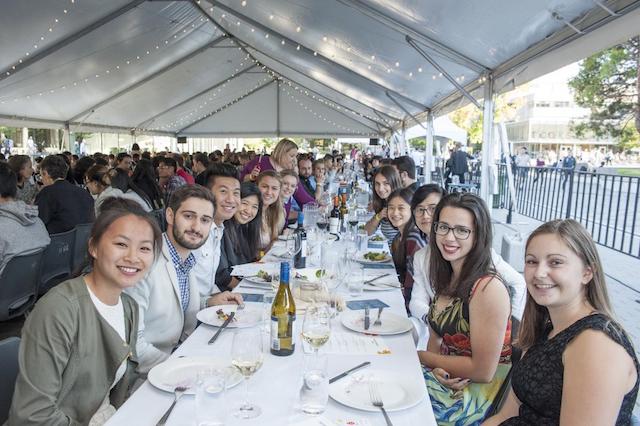 UBC Harvest Feastival 2019
When: Thursday, September 26, 2019 5:00pm to 10:00pm
Where: University Commons (outside the AMS Nest) and Arts & Culture District
Tickets: $10 – $50 (free for children 2 and under), purchase online »
Don't forget to keep your after-dinner schedule clear so you can take in the amazing shows and exhibits planned just for you at UBC's world-class Arts & Culture District.
The Menu
An autumn bounty will be served up including Thai Coconut Harvest Salad, Blackberry Pecan Baked Brie, Browned Butter garlic & Honey Roasted Lois Lake Steelhead, Creamy Plant-Based Pumpkin Penne, Pumpkin Spice Latte Mochi Donuts, and Black Cherry & Chocolate Torte!
Arts and Culture District Shows and Exhibits:
Museum of Anthropology: Puppet Slam
It's a night for the grownups to play at MOA's first-ever puppet slam. There's nothing kid-friendly about this gut-splitting night of raunchy and raucous puppets. Feastival guests can also enjoy free entry to the museum!
Harvest Improv
Join us for a hilarious hour from some of the Vancouver's best improvisors. Led by Allen Morrison, this team of UBC alumni now ply their trade throughout the city and across North America, working with renowned companies such as Vancouver Theatre Sports, The Sunday Service, Hip Bang, Little Mountain Improv and the Critical Hit Show, just to name a few.
And more to come! For more information visit the UBC website.