The Royal Air Force Aerobatic Team, the Red Arrows, are set to soar over British Columbia as part of their biggest-ever tour to North America.  There is a lineup of free public engagement events next week including a full day event at Jack Poole Plaza.
RAF Red Arrows Over Vancouver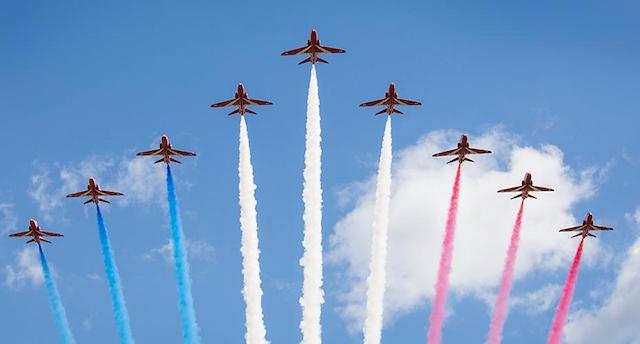 It is the first time the Red Arrows have ever visited Vancouver and it comes as part of the team's most ambitious tour of Canada and the United States. In total, the team will visit more than 20 cities, including 4 in Canada, over 11 weeks.
Tuesday, September 24, 2019 at Science World
Join an exclusive screening of the UK documentary Red Arrows: Kings of the Skies followed by a Q&A with members of the team. Register here »
Thursday, September 26, 2019 at Jack Poole Plaza
Aviation Day with the Red Arrows 10:00am to 6:00pm
Discover the world of aviation and learn more about the UK during a full-day of celebrations for the Red Arrows visit. From past to present, visitors can also get an up-close look at an iconic Sopwith Camel kindly provided by the Canadian Museum of Flight and then don a VR headset to take a ride in the cockpit during a Red Arrows flypast.  Science World and the H. R. MacMillan Space Centre will also be on-location to explain the science behind flight with interactive demonstrations including a friendly rocket launcher competition. 
This full-day event will culminate in back-to-back non-aerobatic flypasts by the Red Arrows over Victoria and Vancouver. The Red Arrows will first take to the skies of Victoria, passing over the provincial capital's historic inner harbour and the British Columbia Parliament Buildings at approximately 4:40pm. Then at 5:00pm, they'll do a flypast along the iconic Vancouver waterfront, trailed by their signature red, white, and blue smoke.
Red, White and Blue
To celebrate the Red Arrows visit, iconic Vancouver landmarks will be illuminated in red, white, and blue. These include Science World (September 24 & September 26), BC Place (September26), the Olympic Cauldron at Jack Poole Plaza and the Vancouver Convention Centre (September 26) and the five sails at Canada Place at the Port of Vancouver (September 24-25). 
As part of their visit, the Red Arrows will make a special visit to Canuck Place Children's Hospice for a chance to connect with the young children receiving care.
They will also meet with local students to promote careers in aviation, science, and technology. Taking place over four different sessions, the Red Arrows will showcase the importance of STEM in their work with students from the British Columbia Institute of Technology, University of British Columbia, Simon Fraser University, Templeton Secondary, Britannia Secondary and an organization aimed at inspiring female leaders from shop floor to top floor in high-tech STEM fields, Achieve Anything Foundation.
Follow the RAF Red Arrows on Facebook and Twitter for more info about these #RedArrowsTour events.