Celebrate homegrown talent and help create a buzz for BC films at the Vancouver International Film Festival ("VIFF") September 26 to October 11, 2019. In advance of the festival, the #MustSeeBC campaign invites audiences to preview trailers and promote BC filmmakers across social networks.
#MustSeeBC at VIFF 2019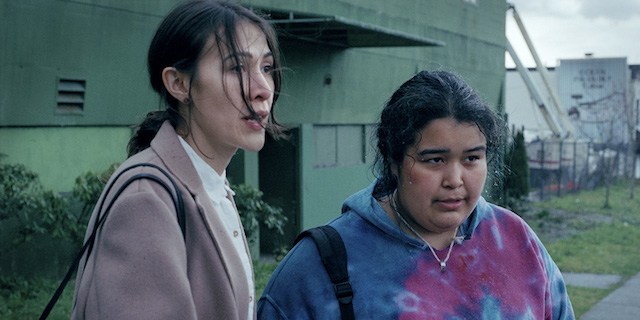 Part of the Sea to Sky programming stream presented by TELUS, the BC Spotlight film series sees Vancouver play an integral role in Elle-Máijá Tailfeathers and Kathleen Hepburn's The Body Remembers When the World Broke Open, and the World Premiere of Anthony Shim's Daughter (BC Spotlight Gala).
Meanwhile, the Okanagan takes centre stage in Ash, the World Premiere of Andrew Huculiak's much-anticipated follow-up to 2014's Violent, and doubles as the Middle East in Red Snow (World Premiere), the first narrative feature by Indigenous creator, Marie Clements.
Two locally produced documentaries examine the devotion demanded of parents: the World Premiere of Ying Wang's The World Is Bright and Julia Ivanova's My Dads, My Moms and Me. The complementary When We Walk, directed by former Vancouverite Jason DaSilva, will screen in VIFF's True North series. Finally, VIFF favourite Charles Wilkinson returns with the World Premiere of Haida Modern, a portrait of the world-renowned artist Robert Davidson.
Until September 25, 2019 use #MustSeeBC across Facebook, Instagram and Twitter and you'll be entered in daily prize draws for tickets.
The Body Remembers When the World Broke Open
This year Miss604 is proud to be the film sponsor of The Body Remembers When the World Broke Open, starring Violet Nelson, Elle-Máijá Tailfeathers, written and directed by Elle-Máijá Tailfeathers and Kathleen Hepburn.
Discovering Rosie (Violet Nelson), a pregnant teenager, sobbing and barefoot on a rainy East Vancouver street, Áila (Elle-Máijá Tailfeathers) swiftly intercedes, initially offering shelter in her own apartment before working feverishly to get the girl access to proper support networks so that she needn't return to her abusive home. As these two Indigenous women embark on a revelatory odyssey to a safe house, they must confront society's assumptions about them, overcome their preconceptions about one another, and reflect on their own respective self-images.
Unfolding in a series of masterful long takes shot on 16mm by cinematographer Norm Li, this deft drama from Tailfeathers and Kathleen Hepburn (Never Steady, Never Still) employs a riveting combination of intimacy and immediacy. The urgency of the "real time" pacing is complemented by the inherent drama of their tenuous bond. A small-scale, high-stakes story shaped by larger socioeconomic and cultural forces, The Body Remembers is one of the most significant narrative films this city has produced.
Win Tickets
I have 2 pairs of tickets to give away The Body Remembers When the World Broke Open on Saturday, September 28, 2019 at 6:00pm at the Vancouver Playhouse. Here's how you can enter to win:
Leave a comment on this post (1 entry)
Click below to post an entry on Twitter
[clickToTweet tweet="RT to enter to win tickets The Body Remembers When the World Broke Open – @BodyRemembers #MustSeeBC at @VIFFest #VIFF2019 http://ow.ly/a6vz30pAKXX" quote=" Click to enter via Twitter" theme="style6″]

Follow VIFF on Facebook, Twitter, and Instagram for more information about the festival, its events, special guests, and films. I will draw 3 contest winners at 6:00pm on Thursday, September 26, 2019.

Miss604 is a proud film partner of VIFF 2019.

UPDATE the winners are Gabriella and Emma!