Burrard Arts Foundation in partnership with the Vancouver Art Gallery presents Façade Festival 2019, a free, outdoor public art and cultural event featuring commissioned works by contemporary artists, both established and emerging, taking place from sunset to midnight each night September 8th to 14th, 2019.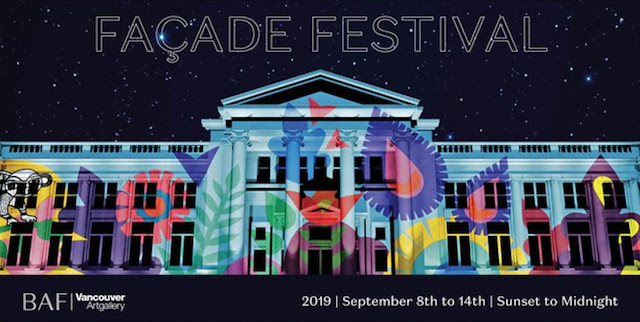 Façade Festival at the Vancouver Art Gallery
When: September 8th–14th, 2019, 7:30pm –12:00am
Where: Georgia Street side of the Vancouver Art Gallery
Every evening during the festival, bold artworks will be projected over the Vancouver Art Gallery's Georgia Street façade, covering the building with dynamic, site specific art. This immersive art installation utilizes the innovative format of projection mapping to create a highly engaging, spatial experience for the public. It also provides an opportunity for the community to gather and enjoy art in a communal, accessible format reminiscent of an outdoor movie screening.
Façade Festival 2019 showcases the work of Dana Claxton, Khan Lee, Drew Young, Sandeep Johal, Lindsay McIntyre, Howie Tsui, Bracken Hanuse Corlett, Justine Chambers, Josh Hite, Natalie Purschwitz and Hyung-Min Yoon. The diverse lineup includes artists working in a wide range of mediums at different stages of their careers. The artists' areas of focus include painting, photography, film, and installation, although digital media artists were emphasized in this year's roster.
A Façade Festival artist talk, Façade Festival Artist Panel: Digital Media Temporality in Public Space, will be hosted by the Vancouver Art Gallery on Saturday, September 14th at 3:00pm. The talk, led by several of this year's artists, will be a moderated dialogue centred around how concerns of space and time play into the festival's unique format. It is open to the public with limited seating available. Attendees are encouraged to arrive early.
For more information follow Burrard Arts Foundation on Instagram and Twitter.