Pure wonder. That's how I can describe my Vallea Lumina experience in Whistler. Eyes open wide, a smile on my face the whole time, and a soft "woah…" escaping my lips as I walked though the hauntingly whimsical world of Vallea Lumina. Lights, holograms, lasers, towering trees, rushing creeks, and a captivating adventure for almost 2 hours in the woods.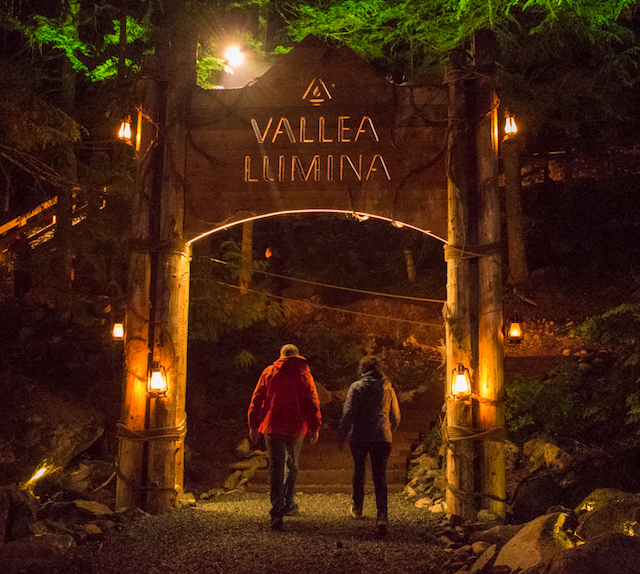 Vallea Lumina in Whistler
On the side of Cougar Mountain, it's an attraction only accessible by shuttle bus (complimentary) from Whistler Village. You arrive at a base camp, with bluegrass songs on the loudspeaker, fires crackling, and lanterns swinging.
"Join an evening excursion and follow cryptic radio transmissions and the lingering traces of two long-ago hikers to find the scenic trailhead where the real journey begins… This pathway leads toward a place filled with beauty, and proof that the legends of Whistler are true."
Morse code, a search for hikers, radio transmissions, and interactive light boards. The crunch of the trail under your feet, the darkness of the forest in front of you – suddenly illuminated by streaking lights and trance-like soundtrack. I didn't know this type of attraction existed but I've made sure to tell everyone I know about it.
Vallea Lumina is open nightly until October, and booking in advance is highly recommended. Tickets are $39.99 for adults, $34.99 ages 6-15, and free for kids 5 and under.
The path is 1.5km through the forest, up some stairs, across some mountain terrain. I would plan for at least a 90 minute outing on the trails (with time to stop in awe and amazement, and to take photos) and 30 minutes for shuttle time. There is no parking on site so meet the shuttle ahead of your booking time at the Gondola Transit Exchange.
I love being out in the forest for a walk, with the aroma of cedar tickling my nose, and this was something really unique that provided an enhanced and enchanting twist to the Whistler experience.
Follow Vallea Lumina on Facebook and Instagram for more info.