It's the nation's oldest beer festival and the upcoming 27th edition of the Great Canadian Beer Festival in Victoria (September 6-7, 2019) is going to be the biggest yet!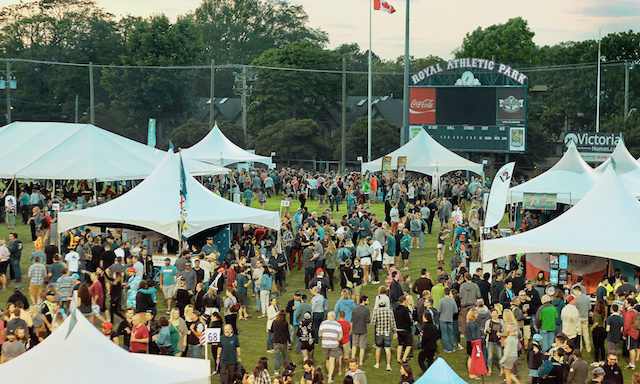 Great Canadian Beer Festival in Victoria
Where: Royal Athletic Park (1014 Caledonia Ave, Victoria)

Walking distance from downtown Victoria

When: Friday, September 6, 2019 4:00pm to 9:00pm

Saturday, September 7, 2019 12:00pm to 5:00pm

Tickets:

Friday September 6 Single Day Ticket – $40.00 + Taxes & Fees

Saturday September 7 Single Day Ticket – $40.00 + Taxes & Fees
Friday & Saturday Weekend Pass – $70.00 + Taxes & Fees

Ticket includes a taster glass, a program, and a BC Transit Get Home Safe bus ticket. Tokens are not included with the ticket.

This year they're accepting the blue and green beer tokens from years past. All you have to do is bring them with you to the festival and redeem as normal at a brewery booth. No need to exchange them for the new red tokens, but note that this will be the last year you can use them!
Recently named one of the Top 10 Beer Cities in the World (by CNN), Victoria's beer festival will feature a diverse range of more than 100 craft breweries from British Columbia (and beyond) along with local cideries and food trucks. The BC Ale Trail-er will also be on-site serving a selection of beers from breweries that are unable to make the trip to Victoria.
Attendees will also have the opportunity to meet the brewers and learn more about Canada's beer culture. Some breweries will even have unique cask-conditioned beers specially produced for the festival. 
Several breweries serving beer at the festival have only been open a couple of months, including Whistle Buoy Brewing (Victoria), Ace Brewing (Courtenay), Container Brewing (Vancouver), Rustic Reel Brewing (Kelowna), Wildeye Brewing (North Vancouver), and Slackwater Brewing (Penticton).
What's a party without food? Ali Baba, Deadbeetz, Greek on the Street, L'Authentique, Mama Rosies, Roast, Taco Justice, and The Deep Friar food trucks will be on site as well.
If you're heading there from out of town, check out the festival website for travel and hotel info and follow the Victoria Beer Society on Facebook and Instagram for more info.