The SeaWheeze Half Marathon is 21.1km (13.1 miles) of breathtaking scenery, salty ocean air, high fives, and Vancouver vibes happening this weekend with pre-run festivities and post-run concert.
SeaWheeze Half Marathon and Sunset Festival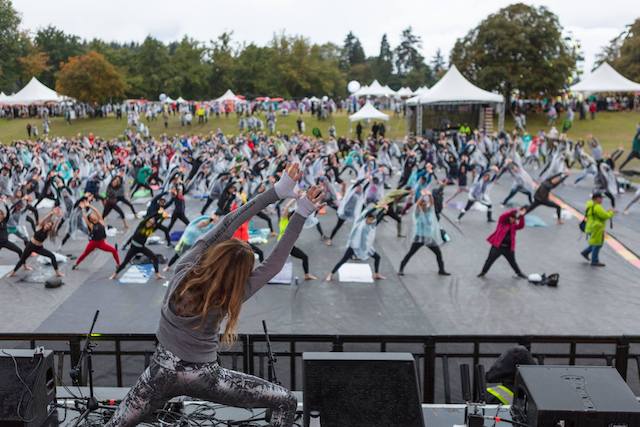 It all starts with the PreWheeze Party on Friday, August 16th from 7:00am to 8:00pm at the Vancouver Convention Centre. That's where participants can pick up their run packages, do some yoga, enjoy live music, do some meditation, and catch a film screening.
The SeaWheeze Half Marathon is Saturday, August 17th from Hastings and Burrard, starting at 7:00am. The run is followed by a brunch and then the SeaWheeze Sunset Festival over at Brockton Oval in Stanley Park (with shuttles running 3:30pm to 11:00pm). The Festival will have food and drinks, yoga, and performances by Big Wild and Kaskade.
Registration for the half marathon is now closed but you can still get tickets to the Sunset Festival.
Road Closures
There will be some road closures in Vancouver this weekend including Downtown Vancouver and the Seawall. View a full list of street closures here.
Notable closures:
On Saturday, August 17th from 6:00am to 11:00am the Seawall will be closed from English Bay (at Bidwell St.) to Lumberman's Arch. Bike and pedestrian detours will be in effect. The Burrard Bridge will also be closed during these hours on Saturday. The Dunsmuir Viaduct will be closed on Saturday, August 17th from 5:00am to 9:00am, as will Water Street between Abbott and Seymour.
From Friday, August 16th at 6:30am until Saturday, August 17 at 6:00pm, Canada Place Way will be closed between Cordova and Burrard, with local access provided for hotel guests.
Follow SeaWheeze on Facebook for more info.