Join Blueridge Chamber Music Festival and The Polygon Gallery in an exploration of musical time. Held in conjunction with The Polygon's current exhibition of Christian Marclay's groundbreaking video installation The Clock, Breathe Out, Listen In: Music About Time offers a rare opportunity to experience two extraordinary music pieces.
Breathe Out, Listen In: Music About Time
When: Sunday, August 25, 2019 from 12:30pm to 5:30pm
Where: The Polygon Gallery (101 Carrie Cates Ct, North Vancouver)
Admission: Until the end of 2020, admission to The Polygon Gallery is by donation, made possible through generous, multi-year support from BMO Financial Group.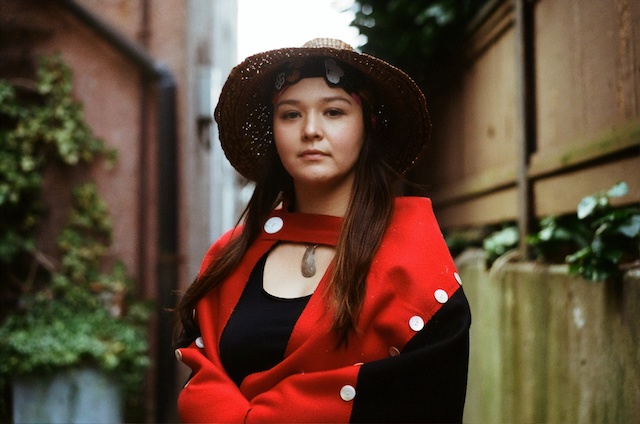 Experience a soundwork by emerging Tahltan/Tlinglit composer and musician Edzi'u. Inspired by her family's tradition of storytelling, Kime Ani explores issues of culture and identity. Working with vintage and current audio recordings, electronic instruments and voice, Edzi'u interprets stories from three generations of her grandmothers and matriarchs.
At over four hours in length, the piece weaves a softly mesmerizing sound world that draws the listener into an ever-deepening state of contemplation and meditation. Scored for flute, piano and percussion, the piece defies the structure of clock time, and instead yields to our actual experiences of time whereby five minutes can seem like forever while a whole day can slip by quickly.
For the first thirty minutes, Tahltan/Tlingit composer and musician, Edzi'u will perform a piece inspired by three generations of family members. Then, from 1:30pm to 5:30pm, a trio will perform a piece weaving soft mesmerizing sounds and drawing the listeners into meditation and contemplation. "For Philip Guston" was composed by Morton Feldman and is considered one of the most monumental chamber music works of the 20th century.
This event is the final concert in the 2019 summer Blueridge Chamber Music Festival.  Now celebrating its tenth season, Blueridge presents a characteristic blend of beloved chamber music classics and innovative new music played by Canada's most thrilling performers.
For more information, follow The Polygon Gallery on Facebook, Twitter, and Instagram #THEPOLYGON