Vancouver loves its bikes, and we love our late summer nights! On Saturday, September 7th, join 5,000 people on bikes to form a luminous parade through Vancouver's city streets during Bike the Night. This family-friendly event kicks off at Sunset Beach with a festival featuring live music, food trucks, free snacks and tune-ups, games and tons of giveaways and prizes.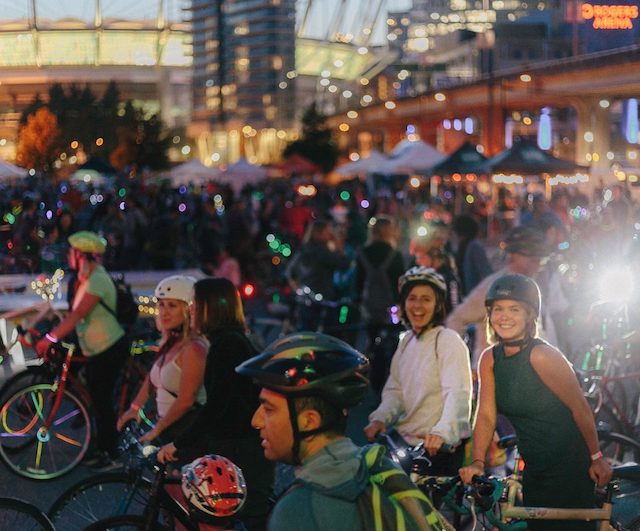 Bike The Night
When: Saturday, September 7, 2019 – 6:00pm pre-ride festival
Where: Starts and Ends at Sunset Beach
Tickets: Register and pay fees online. Youth 16 and under ride free.
Deck out your bike in your brightest lights because when the sun goes down you'll be joining thousands of cyclists on a car-free ride through city streets. Enjoy music, food trucks, games, and tons of giveaways. Costumes are encouraged! Plane a group costume with friends and family. Outfit your ride with lights, reflectors, and stickers, the brighter, the better.
Volunteer
Volunteers are needed to help make this year's Bike the Night the best yet! There are loads of positions for all skills and interests, including Volunteer Champion roles for those looking for more responsibility. Volunteer Champions are eligible for a $100 honorarium. Contact Hub for more info »
HUB Cycling is a charitable no-for-profit organization that has spent over 20 years removing barriers to cycling in Metro Vancouver, while cultivating the health, environmental, and economic benefits that active transportation can bring.