Enjoy the best of every season all across the province with the BC Farmers' Market Trail, a free and easy-to-use online resource where you can find over 145 markets across BC. The Trail is the most convenient way for people to find and buy local food and discover the best of what each community across has to offer.
Every season, over 4,000 local farmers and entrepreneurs attend farmers' markets across the province to showcase the food and goods they've grown, made, baked, and raised. BC farmers' markets are all about supporting the local economy  – contributing over $150 million in economic benefits annually  – with the markets serving as springboards for local farmers and makers to introduce their food and wares to their community.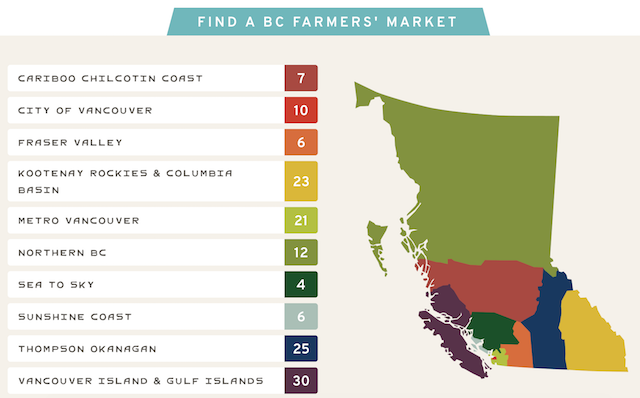 This season, the BC Farmers' Market Trail will expand to feature farmers' markets in the Cariboo Chilcotin Coast, Northern BC, Sunshine Coast, and Vancouver Island and Gulf Island regions, in addition to the Kootenay Rockies and Columbia Basin region in which it launched.
Now in its second year, the growth of the Trail reflects the desire amongst British Columbians to support the local economy through farmers' markets, which contribute more than $150 million in economic benefits to the provincial economy annually.
Learn more about the BC Farmers' Market Trail using the online tool or follow along this farmers' market season on Facebook and Instagram.