Create Vancouver Society with support from Canadian Heritage, the Province of British Columbia, BC Arts Council and Mount Pleasant BIA, proudly announce the 4th Annual Vancouver Mural Festival ("VMF") from August 1-10th. Drawing crowds of 120,000+ to the streets of Mount Pleasant over 10 days, the Vancouver Mural Festival has fast become one of the city's most popular public celebrations.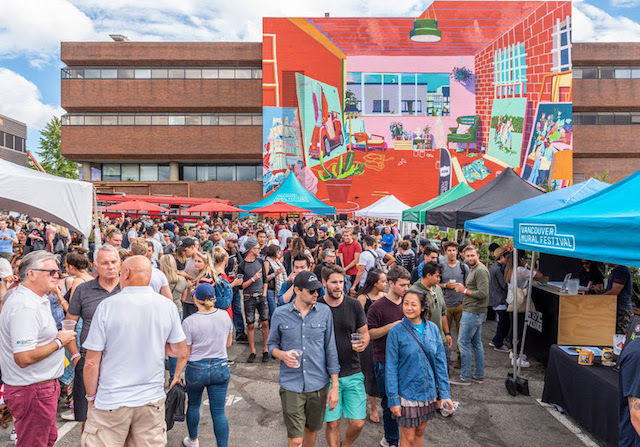 Vancouver Mural Festival
When: Thursday, August 1 to Saturday, August 10, 2019 from 12:00pm to 7:00pm
Where: Various locations, Mount Pleasant (Main Street, Jonathan Rogers Park, and more)
This year's festival, taking place on August 1-10, features several returning favourites such as the VMF Gallery, showcasing artwork created by some of the city's most talented artists, all available for sale; Super Snag live painting/battle; SFU Public Square; THRIVE Talks; and an expanded 2-day Flash Tattoo with 35 artists.
Exciting new additions for 2019 include the inaugural MEC x VMF Run the Murals series running tour and after-party; OBEY Pop Up Party and Shepard Fairey DJ Set; Nach`i`m: A Night of Indigenous Femme Excellence; 12-hour Pride Special party; Plein Air Painting in the Park with Opus; and an Open Air Movie Theatre featuring, Exit Through The Gift Shop.
All this on top of 25 local and international artists painting new murals throughout the week, and daily guided mural tours to learn about the 120+ existing murals in the neighbourhood. Another notable highlight is this year's VMF Gallery serving as the hub for many of the festival's events. Open for the duration of the festival, the VMF Gallery is located at 14 W. 7th Avenue in the alley dubbed '7-½ Lane', thanks to its location between W. 7th and W. 8th Avenue.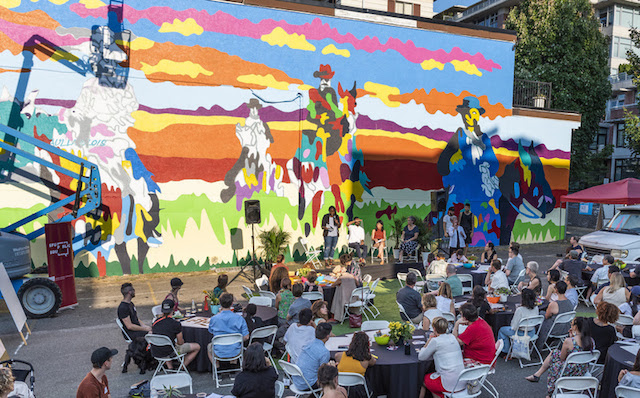 As always, the festival culminates in the Vancouver Mural Festival's main event, the highly-anticipated Mount Pleasant Street Party on Saturday, August 10th from 12:00pm to 7:00pm. Spanning over 14 blocks in and around Main and Broadway, the Street Party transforms Mount Pleasant's streets and laneways into a dynamic living art space, with free, accessible attractions to bring the community together, including live music, 4 beer gardens, skate jam, Family Zone, 2 markets, street dance battles, DJs, and much more.
Plus, the finale of the festival marked by The Park Show at Jonathan Rogers Park in the evening (tickets $40) with acclaimed New York singer-songwriter LP, with guests electronic instrumentalists badbadnotgood, award-winning Canadian Indigenous pop-electronic artist iskwē, plus local Vancouver legend MY!GAY!HUSBAND DJ'ing throughout the show.
2019 MURAL ARTISTS
| | |
| --- | --- |
| Alex Joukov | Carmen Chan |
| COOL COMBO ONE | Debra Sparrow |
| William Liao | UNCLE O |
| Eva Eskelinen | EXPEL |
| Fintan Magee | Jeska Slater |
| Kathy Ager | KC Hall |
| LUNAR | Medianeras |
| Olivia Di Liberto | ONEQ |
| Pablo Zamudio | Paintillio |
| Pamella Pinard | SatOne |
| Sebastian Curi | Sonny Green |
| Syd Danger | |
At its core, VMF creates a platform to showcase the creativity and diversity of our city's talented artists, while bringing communities together through the creation of accessible public art and meaningful events and conversations around socio-cultural issues facing our city and artistic communities. For more information follow Vancouver Mural Festival on Twitter and Instagram #VanMuralFest.