Movies Under the Stars ("MUTS") is returning this year to Surrey's Holland Park, with a family-friendly lineup of entertainment and movie screenings every Saturday in August.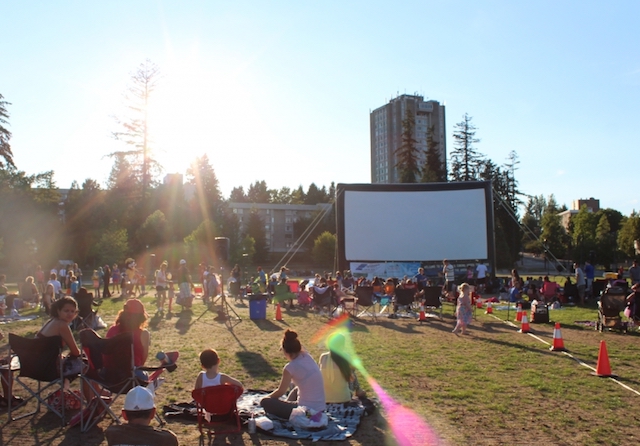 Movies Under the Stars in Holland Park
When: Every Saturday in August 2019.
5:00pm entertainment, movies at dusk.
Where: Holland Park (13428 Old Yale Road, Surrey)
Admission: FREE!
Saturday, August 3, 2019 – Space Jam
Saturday, August 10, 2019 – How to Train Your Dragon: The Hidden World
Saturday, August 17, 2019 – The Lego Movie 2
Saturday, August 24, 2019 – Spiderman: Into the Spider-Verse
This all-ages event is free for everyone to attend. Each evening showcases amazing local performers, arts and crafts, games, and other fun activities for everyone to enjoy all at no cost. Activities begin each night at 5:00pm, with the movies themselves getting underway at dusk.
Movies Under the Stars is the perfect way to make new memories this summer. Experience cinema under a starlit sky while surrounded by family and friends.
MUTS began bringing the Surrey community together almost 15 years ago in 2005 and has continued ever since. MUTS doesn't just start and end with movies, either: each evening is packed full of arts and crafts, games, activities, and live entertainment.
Follow the Downtown Surrey BIA on Facebook and Twitter for more information.
Miss604 is a proud sponsor of Movies Under the Stars