The Monstercat Compound Block Party returns to Vancouver for the third year for a celebration of music, community, and the city the Vancouver-based record label calls home. Fans, families alike, offering something for every Vancouverite – all for free admission.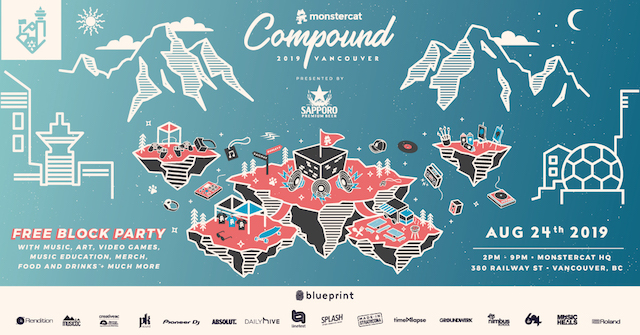 Monstercat Compound Block Party
When: August 24th, 2019 from 2:00pm to 9:00pm
Where: Monstercat HQ 380 Railway Street
Admission: Free, RSVP here »
Two stages of music, merch, food and drinks, beer gardens, music education, live art, gaming and more! An all ages event, with something for everyone to enjoy. Compound features performances from some of electronic music's most promising talent, including BC artists Drezo, Conro, Tails, and LA-based Grant, and Disero.
In addition to performances from Monstercat fan favourites on the Main Stage, and the best underground sounds on the Groundwerk Stage powered by MusicBC. Festivities will also include live art with local artists putting their own spin on the Monstercat mascot, exciting video games with a musical twist on them, and music education. There will also be carnival activities, merch, along with food & drinks. All of this taking place in the dynamic Railtown neighbourhood, wrapping down Railway and Dunlevy streets.
Compound also offers festival-goers the unique opportunity to put together some beats of their own. Attendees can stop by the Nimbus School of Recording's Mobile Sound Studio or play around with some of the best software on the market from Abelton, and test out the some hardware from our friends at Pioneer DJ and Roland.
If guest are more interested in playing "old-school" instruments, they can play some tunes at the Tom Lee Instrument Petting Zoo.
For more information visit the Compound website or follow them on Twitter and Instagram.