Published in partnership with VisitCoquitlam.ca
How do cold drinks, sweet treats and free festivals sound? Here are three reasons to head to Coquitlam's City Centre this month. Best of all, it's an easy ride on SkyTrain to all of these must-do summer highlights.
Play in Coquitlam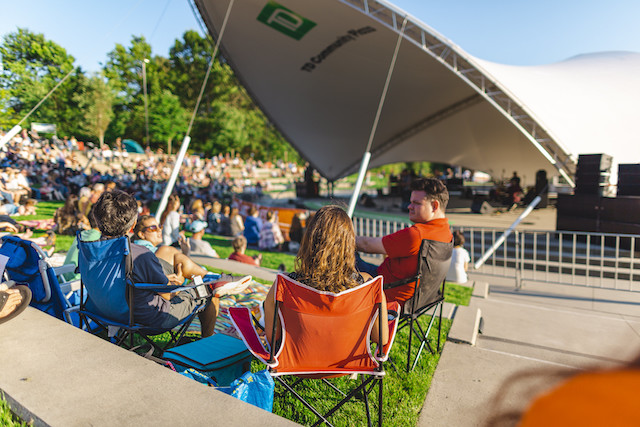 The much-anticipated Kaleidoscope Arts Festival returns to Coquitlam's Town Centre Park on Saturday, August 10th. Don't miss this free event, with live music, entertainers, food trucks, craft beer and spirits, and an artisan market, all nestled along the picturesque Lafarge Lake.
DJ Emilita will get the festival vibe going at 2:00pm, with live concert performances by Current Swell, Royal Canoe and Terra Lightfoot hitting the outdoor TD Community Plaza stage from 4:30pm.
The second stage features pop-up acts including acrobats, dancers, musicians and other artist performances. Did we mention the cold drinks? Locally crafted beer and spirits will be on offer and can be enjoyed throughout the festival grounds. The event runs from 2:00pm to 9:00pm. For more festival highlights, check out Visit Coquitlam's event website and enter to win a VIP experience from Miss604 here »
Drink in Coquitlam
Sunny days call for cold drinks. Whether it's sweet bubble tea or a lime daiquiri, here are some spots in City Centre, just steps from SkyTrain, where you can get social: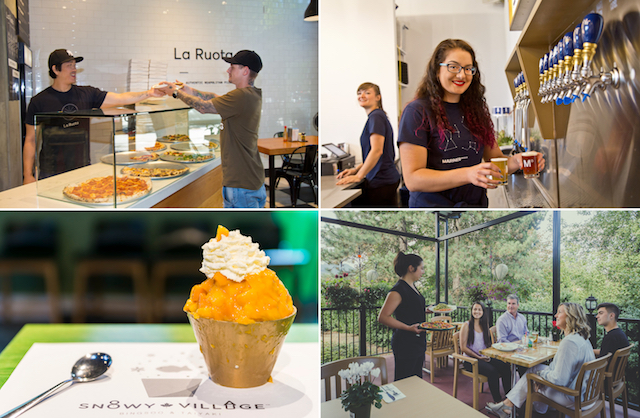 Yi Fang Taiwan Fruit Tea: This Taiwan-based teahouse chain has a newly opened location near Coquitlam Centre, at 1161 The High Street #3. Refreshing!
Xing Fu Tang: This Taiwanese teahouse chain says its mission is to "give customers a joyful cultural experience full of love and happiness." Get those cheeks smiling at their new location at 1180 Pinetree Way, next to Lincoln SkyTrain station.
Cocktails: Looking for something stronger? Browse the cocktail and craft beer menu at Browns Socialhouse Town Centre, 2950 Glen Drive #120.
Craft beer: So many options to choose from! Check out Coquitlam's Craft Beer 101 cheat sheet for a list of locations to try.
Coffee: You won't have to walk far to find your caffeine spike. Some to try within City Centre include Caffé Divano, PappaRoti or Awesome Place Coffee & Dessert.
Eat in Coquitlam
Treat yourself! From sweet buns to shaved ice desserts or decadent ice cream sandwiches, Coquitlam's dessert spots are no longer a local secret. Here are a few favourites in City Centre.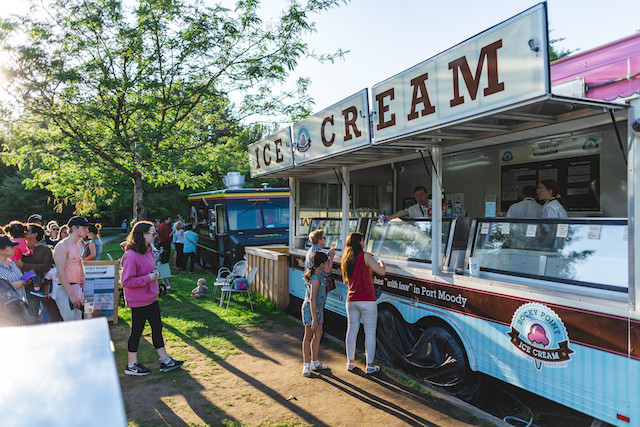 Rocky Point Ice Cream truck: This much-loved ice cream shop is hosting a summer pop-up location at Town Centre Park in Lot D off Trevor Wingrove Way. Check their Google listings for hours of operation (weather-dependent) or Rocky Point Ice Cream.
Snowy Village: Dig in to eye-poppingly delicious desserts including bingsoo, which includes snowflake shaved ice topped with sweetened condensed milk, whip or ice cream, and your choice of fruit or sweet topping. It's close to Town Centre Park, amid the City Centre shopping district.
Cup Full Dessert Café: Highlights include Korean shaved ice bingsoo, baked pastries and Soft Peaks ice cream. Head to the food court at Henderson Place Mall to scope out the menu.
The Coffee Bun: Dig your teeth into this delicious spot, also in Henderson Place Mall. Choose from 10 types of buns plus other desserts including shaved ice.
Miracle Belgian Waffle: The name really says it all. Yum. And it's conveniently located on Glen Dive – a foodie's heaven.
Pappa Roti: Try their signature coffee caramel bun warmly wrapped around frozen ice cream. You'll find them centrally located on Pinetree Way.
Oh wait, is it a meal you're after? You'll find plenty of options in the area too, starting with the foodie strip of Glen Drive. Check out this list of 16 patios to try this summer or peruse this list of more than 300 restaurants throughout Coquitlam.
More Fun Coquitlam Events in August
Mark your calendars!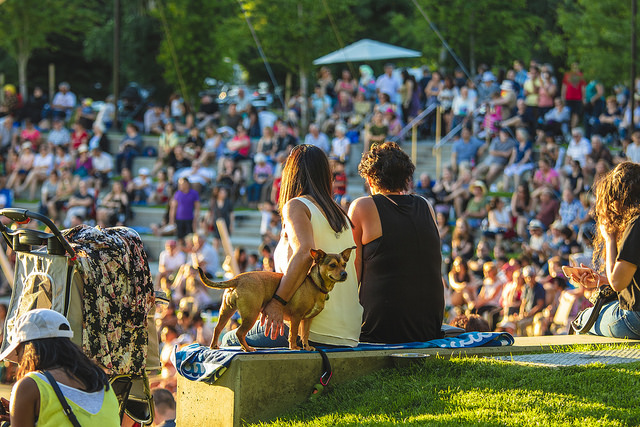 Summer Concert Series – Pop Night
Friday, August 2, 2019 from 7:00pm to 9:000pm.
Drop in for an evening of free concerts on the outdoor TD Community Plaza stage in Town Centre Park, featuring Emma Currie and Trilojay.
Coquitlam Farmers Market
Sundays, 9:00am to 1:00pm
The Coquitlam Farmers Market offers a spectacular selection of products that are made, baked, grown, or raised in B.C. It's located outside Dogwood Pavilion (Poirier Street & Winslow Avenue).
Music on the Grill – Celtic Music Night
Saturday, August 17, 2019 from 6:00pm to 10:00pm
Enjoy a BBQ catered dinner on the patio of Evergreen Cultural Centre with pre-show musician Adrian Chalifour, followed by the evening's marquee presentation by Kiérah in the Studio Theatre. Get tickets here »
Canadian Minor Box Lacrosse National Championships
August 20 to 24, 2019
Enjoy the fast-action game of lacrosse at the Canadian Minor Lacrosse National Championships. This is the first time in history that all levels are held together! Games are free to view at Poirier Sport & Leisure Complex.
Still looking for more things to do? Follow Visit Coquitlam on social media @visitcoquitlam.