Timber is hosting their annual ball hockey tournament on Jervis at Robson on July 1st, in support of a great cause!
I'm not sure I had a more Canadian Canada Day in recent years than the time John and I walked up to Timber on Robson. The restaurant, which is already Canadian-themed year round — complete with stuffed beaver mascot– had a bison burger special, ball hockey outside on Jervis, and we ran into an actor from Letterkenny.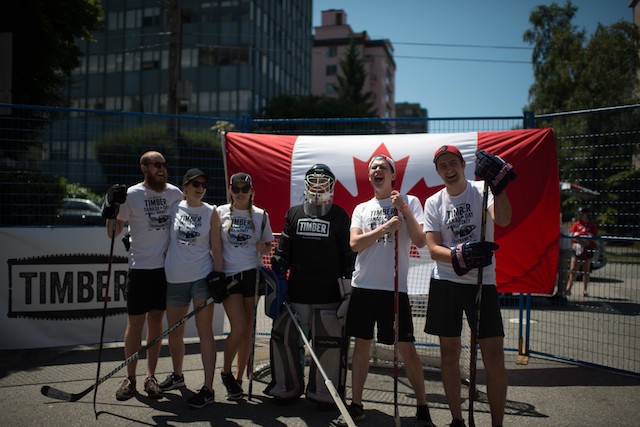 Timber Hosts Canada Day Ball Hockey Tournament
Where: Jervis St & Robson St, Vancouver (neighbouring Timber Gastropub)
When: Monday, July 1, 2019 from 12:00pm to 5:00pm
The Canada Day Ball Hockey Tournament celebrates the love of the game for five hours of scrimmage match-ups, skill-building exercises and an exciting finals game to crown the 2019 champions.
The 2019 team roster includes four spirited teams: West Coast Canning, Timber & Forage, BASH (coaches and youth from the program) and Cutting Edges. The teams play rounds of 15-minute games surrounded by bleachers set up for family-friendly spectating. Everyone is welcome to participate in the skills exercises offered between games three times throughout the afternoon.
Neighbouring the ball court, at an outside grill Timber will serve up their classic bison burgers. Proceeds from participant entry fees go to support BASH, an inclusive after-school program for youth interested in playing ice hockey, run by Britannia Community Services Centre. From skates to hockey tape, this free program provides youth (ages 12-17; all genders) with the equipment and access to coaching and ice-time needed to play. Players and the public are also encouraged to bring kid's hockey equipment to the tournament where donations for the BASH program will be collected.
The Canada Day event provides opportunities for people to participate in a community service and give to a good cause.
BASH is a free program for youth (ages 12-17; all genders) interested in learning how to play ice hockey. Hockey equipment, including skates, is provided, while organized drills with experienced coaches and scrimmage games fostering good sportsmanship encourage skill development, healthy fitness and team-building. BASH is hosted weekly by Britannia Community Services Centre, a capacity-building association working "to develop, coordinate and support a wide range of excellent programs and services for Grandview-Woodland and Strathcona by working with community members, partners and local agencies."