Discover the stories of an LGBTQ2+ community that fought back! Local walking tour company Forbidden Vancouver and the Vancouver PRIDE Society have brought back the Really Gay History Tour this summer. The tour takes guests from downtown to the historic Davie Street Village to discover the stories, landmarks, and icons of Vancouver's LGBTQ2+ community. You will meet a history of outrageous drag queens, book store bombings and the unsung heroes who forever changed the social fabric of our city.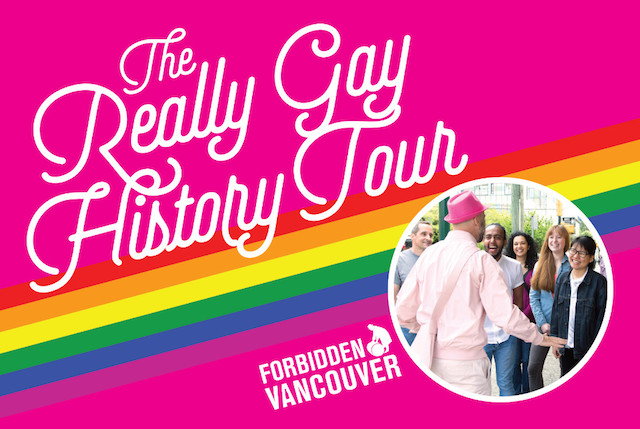 The Really Gay History Tour of Vancouver
When: Sundays at 2:00pm, July to November
During Vancouver PRIDE the walking tour runs every day between July 27 and August 7, 2019.
Tickets: Buy online or call (604) 227-7570. Suitable for ages 14+.
Where: Meet outside the entrance to Vancouver City Centre SkyTrain station on W Georgia. The tour ends at Jim Deva Plaza on Davie Street, near a multitude of bars and restaurants to choose from for a post walking tour cocktail.
The walking tour was researched and developed by Forbidden Vancouver storyteller Glenn Tkach, with support from company founder Will Woods. Dressed head to foot in pink, Glenn cuts a dashing figure as he leads groups along bustling downtown streets: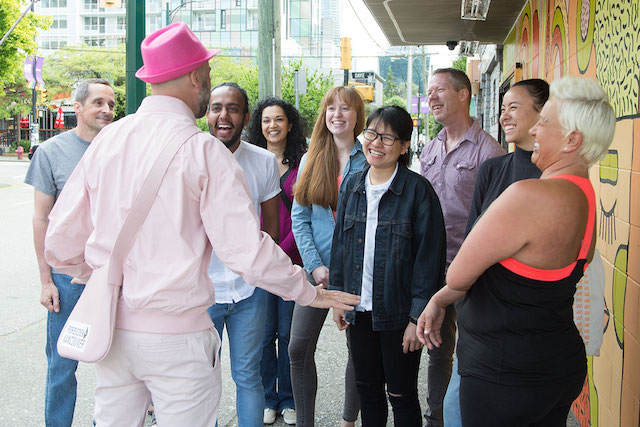 "The tour covers some dark history, including the persecution of queer people by government agencies and police right into the 1990s. But overall the experience is a celebration, not just of our community's success in achieving equality, but a celebration of the brave people who fought back against a hostile society, whatever the consequences."
Follow Forbidden Vancouver Tours on Facebook, Twitter, and Instagram for more information.
Back for 2020
Tours restart on July 5, 2020 with COVID-19 safety measures in place. Book online in advance here.
2021 is On!
The tour has begun, every Sunday in June through November with extra dates around Pride Week. Extra tour times for The Really Gay History Tour from July 30 – August 2 at 10:00am and 2:00pm. Tours meet outside the entrance to Vancouver City Centre Canada Line station. Tickets are $29 for adults, $26 for students and seniors.