In the heart of Downtown Surrey, you can pull up a chair and have a seat at The Long Long Table for a special event this summer. This unique dining experience invites you to dine with family, friends, your community, and perhaps some new faces that you can share a story with or two while you enjoy a cosmopolitan culinary journey.
The Long Long Table at Surrey Civic Plaza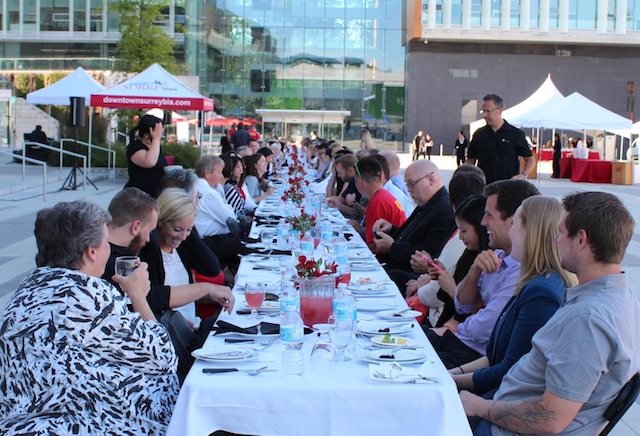 When: Tuesday, June 25, 2019, 5:00pm reception, 6:15pm dinner
Where: Surrey Civic Plaza (13450 104 Ave)
Tickets: $40 each and available online now.
The Long Long Table is a unique event that invites people of all ages who live, work, volunteer, and study in Surrey to sit at the same dinner table and share a delicious 5-course meal together. Here citizens who would not normally interact with one another find themselves sharing experiences and getting to know one another, while enjoying live entertainment and exciting games making this a "friend-raiser" rather than a fundraiser.
The Long Long Table Menu
Take part in trivia and fun games for a chance to win prizes and get to know your Surrey. Consisting of 5 carefully crafted dishes by the catering staff at the Civic Hotel, the theme of this year's meal is West Coast Fusion. The feast begins at 6:15pm, and will consist of a family style appetizer, followed by a salad, a palate cleanser, a family-style entree, and then dessert.
1st Course: West Coast charcuterie boards, served with Okanagan apple jam, flaky grissini, and herb crostini
2nd Course: Summer frisée salad with local summer fruits and endive vinaigrette
3rd Course: Serrano and sweet lime panna cotta
4th Course: Vindaloo spiced beef hanger with cumin potatoes, pickled onion, and basmati rice pilaf
Vegetarian Option: Paneer, cauliflower, green beans in saffron coconut curry and garlic naan bread
5th Course: Vanilla bean mousse, gulab jamun, banana brulée
Beginning at 5:00 pm, enjoy the musical stylings of the band Swing Patrol while socializing with more than 200 people who live, work, learn, and volunteer in Surrey. Each course is created using fresh local ingredients that celebrate the community's diversity.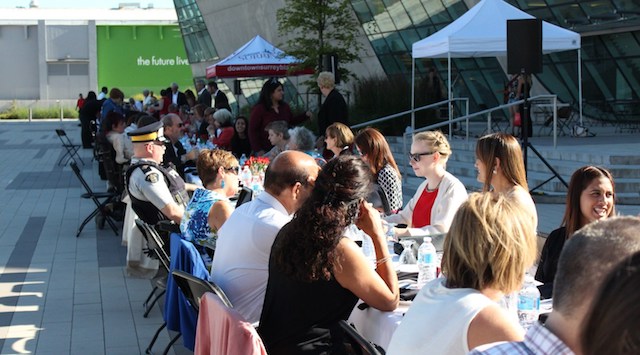 For more information, follow the Downtown Surrey BIA on Twitter and Facebook.