CurliQue Beauty is offering free prom makeup for female and male teenagers on their special day from now until June 29th.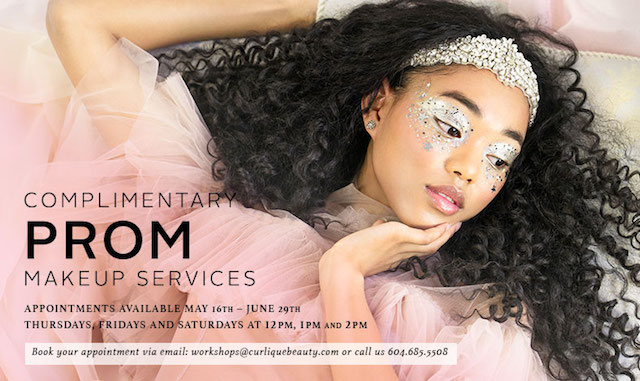 Prom (aka grad) can be daunting for parents as the cost of outfits, makeup and hair styling can add up quickly. CurliQue Beauty recognized this and created these complimentary appointments to ensure parents and teens could focus on their memorable grad experience.
Free Makeup for Prom from CurliQue Beauty
Where: The corner of Robson and Homer in Downtown Vancouver
When: Thursday-Saturday in one-hour time slots from 12:00pm to 3:00pm for females and males, by appointment only.
Appointments: Call (604) 685-5508 or email wo[email protected] with your date and time slot request.
CurliQue Beauty Boutique is the retail extension of Blanche Macdonald, and all of their talented in-store artists are graduates of the Blanche Macdonald makeup program, which means teens will be getting high-quality prom makeup applications without the high price tag. Alongside the complimentary makeup application, CurliQue Beauty will be offering:
A 1-hour complimentary Makeup application appointment and a ring-light selfie photoshoot from the Professional Q-Talent Artists
A 20% discount on in-store products (excludes: The Ordinary & Smith Folio)
Follow CurliQue on Facebook, Instagram and Twitter for more info. *Complimentary appointments will only be available to secondary school students with valid school ID.