Media stay hosted by TrueKey Resorts
The sign on our kitchen counter advised that if we were cooking crab for dinner, we should use the burner on the barbecue on our main balcony. My niece Alexis and I had just arrived at Sooke Harbour Resort and I knew immediately that the ocean would play a big part in our stay.
Located just 40 minutes from Victoria, Sooke is a community defined by its proximity to water – whether that's the Sooke River (home to the famous Sooke Potholes Regional Park) or the harbour that leads out into the strait between Vancouver Island and Washington State.
Sooke Harbour Resort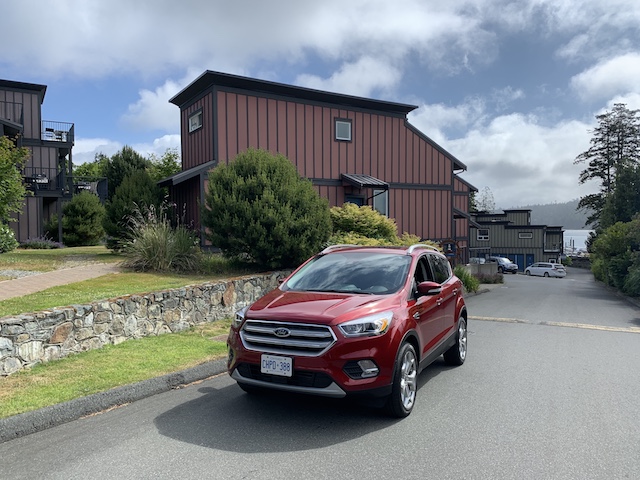 We had checked into a two bedroom townhouse at Sooke Harbour Resort, complete with a full kitchen, laundry, fireplace, and carport. There are amenities like a hotel (towels and soaps), coupled with extended-stay staples like linens in the closet, kitchen appliances and utensils, coffee packets, and even salt & pepper – which came in handy when we cooked our breakfasts.
Kayak Sooke Harbour
The resort has two hot tubs, bike rentals, SUP and kayak rentals on site through West Coast Outdoor Adventure. We took a Hobie kayak out in the harbour on our first morning.
It was my niece's first time in a kayak and the sit-on-top pedal style of the Hobies helped me keep my promise to her that she wouldn't get wet during our outing. We did work up an appetite and earned our lunch feast over at Stickleback West Coast Eatery.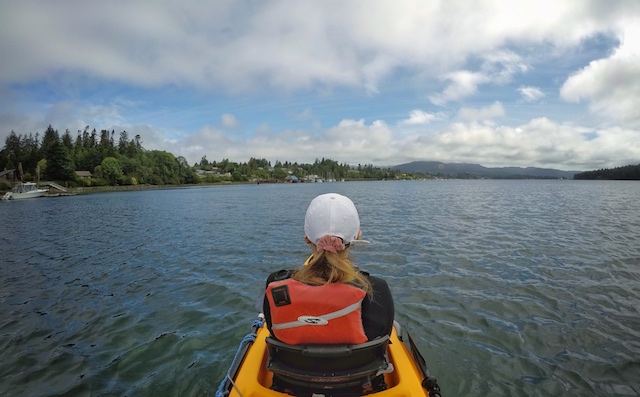 Lunch at Stickleback
Located right on the water – I mean so close you can paddle up to Sombrio Beach and park your kayak near the patio – Stickleback serves up smoked pulled pork, wraps filled with veggies, burgers, baby back ribs, pasta, salads served with warm toasted garlic bannock, halibut, and more.
We picked out the crispy cauliflower bites (drizzled with maple Sriracha and served with a curry aioli) to start before we got our wraps and sandwiches. They were so crispy that we took the leftovers home and had them with our dinner at the resort – and they were still deliciously crunchy. I loved the crispy, crunchy elements in my sweet and smokey pulled pork sandwich too, with the onion ring and pickles adding a nice texture and flavour profile.
Stickleback also offers kayak+burger+beer bundles with Rush Kayak Adventures which is located right next door.
Sailing Sooke Harbour with a Local
The next day, we went out with Mark Grant Fishing Charters with Mark himself who met us right on our resort dock.
Slipping past harbour seals hanging out in the eel grass of the marina, Mark commented on a line of Canada Geese swimming our way. "They don't even fly south in the winter anymore, they're here year round." His comment could be used to describe the community of Sooke as well. Years ago there were many vacation cabins and cottages, but with expending city utilities and amenities over the last few decades, it's become a year-round home for many.
"I've been on the rock my whole life," Mark said as we passed the recognizably red government wharf. If there's one person you want guiding you around unfamiliar waters, it's someone like Mark. He was gracious enough to spend some time touring Alexis and I around the harbour, from Sooke to East Sooke and out to the Juan de Fuca Strait – with Washington State's snow-capped Olympic Peninsula in the distance.
From Beach to Beach
Once we got our sea legs, we explored some swimming holes and beaches on land. Just a few minutes up the highway from Sooke you'll find a string of sandy beaches that wrap around the coastline.
Sooke Potholes
Another place I wanted to make sure to visit was Sooke Potholes. It's one of those destinations that I've seen on Instagram for years, and heard about from locals, but had never been to until now.
I have to say, it's everything I thought it would be, with hikes that lead you from the pebbly river basin all the way up to a cascading waterfall. In between there are pools of emerald river water up and down the canyon, coupled with beaches where we happened across some swimmers (at 10:00am on a Wednesday). It's definitely a popular spot!
With Sooke Harbour Resort as our home base for a few days we got on the water, and a little bit in the water, and felt right at home. From the friendly staff at reception, to the carefully laid out instructions for everything from the front door locks to the shower faucets.
You won't have to worry about a thing, unless of course you're faced with the tough task of choosing between a hike or swim along the ocean or the river. But really, you can easily do both in one day when you're in Sooke!
View the rest of my photos from Sooke on Flickr here: