The culmination of June 20th's Strawberry Full Moon and June 21st's Summer Solstice and International Yoga Day, brings a spirituality and energy that Maan Farms is honouring by hosting the World's Largest Goat Yoga Class.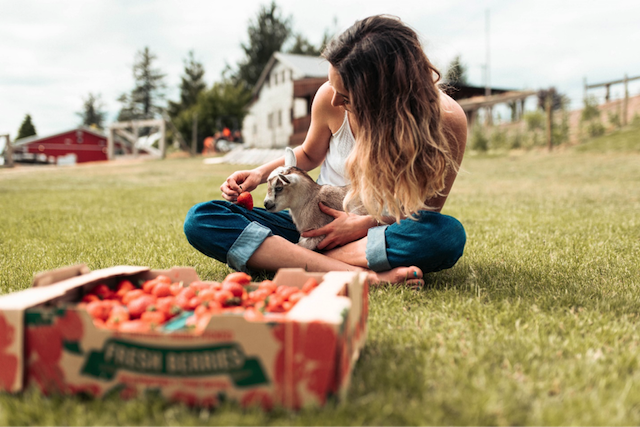 World's Largest Goat Yoga Class
Where: Maan Farms at 790 McKenzie Rd, Abbotsford, BC
When: Saturday, June 22, 2019 at 10:00am
Admission: $25/person available online. Tickets include 1 hour of yoga, 1 pint-sized strawberry basket, and 1 day-pass to Barnyard Adventure Land.
Maan Farms is combining their goat yoga classes and strawberry u-pick offering in one large-scale event with the intention of hosting the World's Largest Goat Yoga Class. Hosted in farm fields under the summer sky, everyone is invited to celebrate with them.
"The Strawberry Full Moon was once used as a signal for the beginning of strawberry harvest by an ancient tribe," says Gurleen Maan, Operations Manager. This event combines wellness and agriculture as our guests will be led through a goat yoga class, focused on grounding and harnessing the energy of the full moon, complemented by a walk to the strawberry fields. "As a health and wellness practitioner, I feel honoured to be combining agriculture and wellness in this offering on my farm. It's a beautiful and refreshing way to cultivate joy, connect with nature, and practice mindfulness."
For more information follow Maan Farms on Instagram and Facebook.