The Vancouver Writers Fest is opening its warehouse to sell thousands of books from its incredible archives on June 2nd at Heritage Hall. The trove includes paperback and hardcover titles from the past 30 years!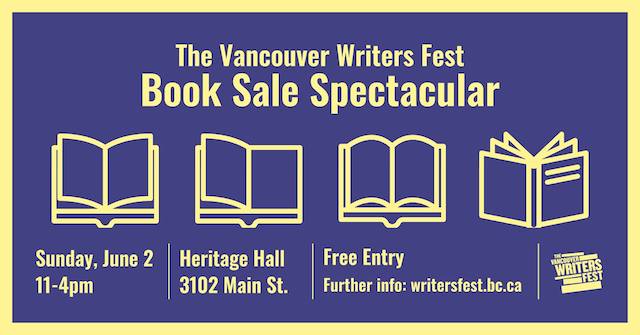 Vancouver Writers Fest Book Sale Spectacular
When: Sunday, June 2 at 11:00am
Where: Heritage Hall, 3102 Main Street
Admission: Free!
For the first time in 30 years, the Fest is opening up its warehouse and offering up thousands of books from the bestselling, award-winning and celebrity authors that have graced its Granville Island and VPL stages—at prices that simply won't be beat. All books are $5 each or 5 for $20.
That's not all! Enjoy beer, wine and refreshments at the event along with Scrabble, face painting, pop-up shops and more. Pick up your favourite bestsellers, local favourites and award-winners across fiction, nonfiction and YA/youth categories—and help fund future events at the Fest.
Pop-Up Vendors
Hollybee Sketchbooks and Journals: "My absolute favourite thing about the sketchbooks and journals that I make is that I get to be creative in how I design the covers, and whoever buys them gets to be creative as well! I love seeing how people choose to fill the pages, with drawings, paintings, stories, and poetry."
Treats Designs: Handcrafted jewellery featuring natural tagua from the rainforest. Smart. Beautiful. Sustainable.
Room Magazine: Room is Canada's oldest feminist literary journal, and has published fiction, poetry, creative nonfiction, art, interviews, and book reviews for forty years. Published quarterly by the West Coast Feminist Literary Magazine Society, also known as the Growing Room Collective, Room showcases writing and art by women (cisgender and transgender), transgender men, Two-Spirit and nonbinary people.
For more information visit the Vancouver Writers Fest Facebook page.