It's a home tour, it's a patio tour, it's the Vancouver Catio Tour! For one afternoon, seven homes with their beautiful catios will open their yards to attendees in support of the BC SPCA.
Visit these outdoor cat enclosures in action and learn more about the building of the catios and how they have enriched the lives of the felines.
Vancouver Catio Tour with BC SPCA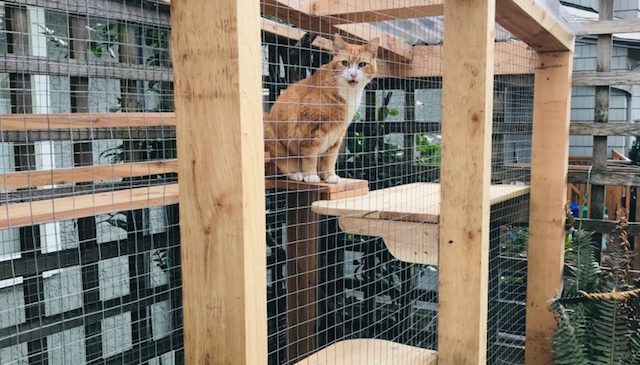 Where: Various locations in Kitsilano and Mount Pleasant
When: Sunday, June 9, 2019
Tickets: $10 Register online now »
The self-guided catio tour shows off seven catios in the Kitsilano and Mount Pleasant. The catio tour guidebook will be emailed to registrants about a week before the tour. It will have photos, catio information, and maps so you can plan your route ahead of time. Catio hosts, BC SPCA staff, and volunteers will be available at each catio stop to chat with you about the catio features.
A catio is a screened-in space, a patio for cats! The structure can be attached to the home or free-standing and often includes perches, ramps and other enrichment for cats. Want to build your own catio? The BC SPCA has a helpful guide online.