For the 10th Annual Vancouver Craft Beer Week, Timber is supporting craft breweries of Vancouver that do not have tasting rooms of their own. On June 6th, the team at Timber will tap ten kegs from five small exclusive breweries with the brewers in-house for the Barley Pop Pilgrimage Tap Takeover.
Barley Pop Pilgrimage Tap Takeover at Timber
Where: Timber Vancouver (Robson St)
When: Thursday, June 6, 2019 from 3:00pm
The following breweries will be served until the keg runs out:
Good Buddy Head Brewer Tim Rennie's focus is to "make wacky and drinkable beers, but most importantly to hang out with your good buddies and have good times". Best known for 'Sad Dad' India Pale Ale, 'Dutch Rudder' Belgian Quadrupel, 'Lunchbox' Peanut Butter & Jelly Stout, 'No Rain' Watermelon Sour. Tim will be at Timber pouring 'Lunchbox' PB&J Stout and 'Just Blue Myself' Blueberry Muffin Sour. Good Buddy is brewed at Callister Brewing Co.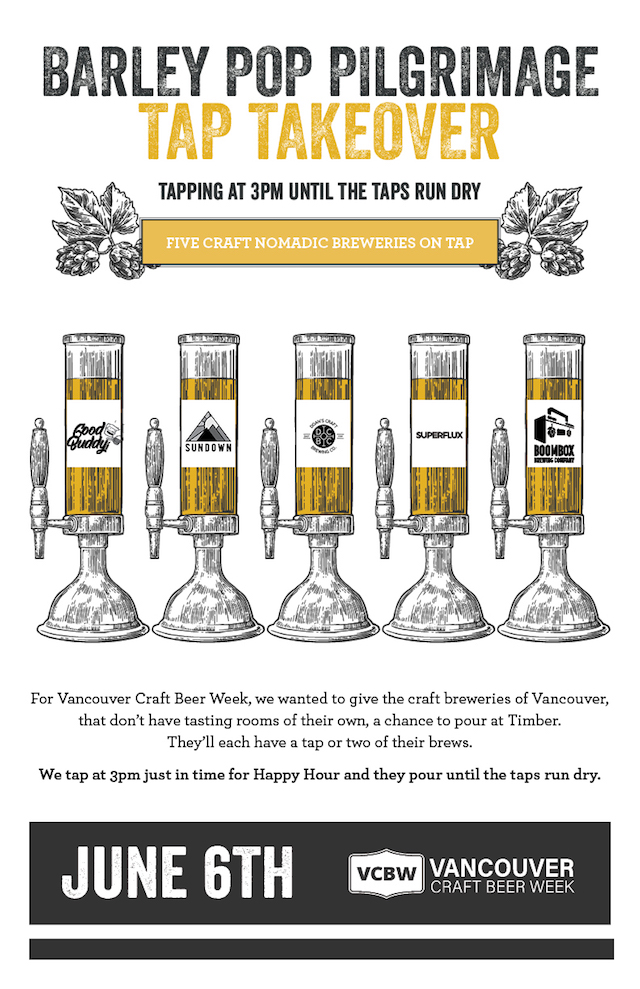 Sundown Beer was created by three friends (Kevin, Charles, Ben) and a serious love for craft beer. They specialize in traditional styles of German beer while adding a unique Cascadian twist. Find them in East Vancouver at Callister Brewing Co. The Sundown Crew will tap: 'Dragonflux Fury' Sour and 'There Goes the Sun' Hefeweizen.
Doan's Craft Beer Company Since leaving their original location on Powell, Doan's has moved their operations into Craft Collective Beerworks in East Van. Doan's is still a family run beer company and loves to continue their practice with traditional German styles, like their multi award winning Kolsch, as well as 'American' styles of IPA, Lagers and fun fruit beers. Evan Doan will be tapping their West Coast IPA and Kolsch.
Superflux Beer Owners/Brewers, Matt Kohlen and Adam Henderson, named 2018 Foodies of the Year by Western Living Magazine, brew up legendary beers such as 'Colour and Shape' IPA, 'Craft Beer is Dead American' IPA, 'Double Infinity Citra' with the most creative bold labels on the shelf. Superflux is brewed at Strathcona Beer Company. Superflux will be pouring 'Mañana' IPA & 'Easy Tiger' Pale Ale.
Boombox Brewing Company Boombox Brewing, known for making big juicy ales, such as the 'Rad Seeker' and 'Arcade Glow', is brewed at Parallel 49 Beer. Boombox will be pouring their new release 'Hollow Tape' IPA and 'Arcade Glow'.
Follow Timber on Facebook and Twitter for more info. Please enjoy responsibly. Must be 19+ to partake.