The Shipyards Night Market. North Vancouver's picturesque new waterfront neighbourhood, Lower Lonsdale The Shipyards District, is gearing up once again to welcome thousands every Friday night all summer long!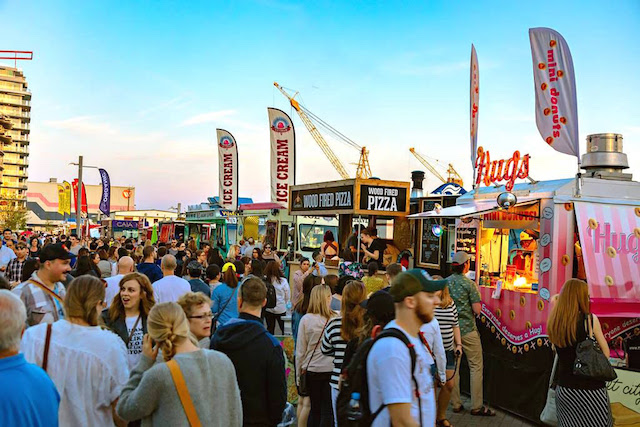 Shipyards Night Market on Friday Nights
When: Every Friday May 3 to September 27, 2019 5:00pm to 10:00pm
Where: Shipbuilders' Square (15 Wallace Mews, North Vancouver)
Cost: FREE and no lineup to enter
Getting There: Catch the Seabus from Waterfront Station in downtown Vancouver – the Market is conveniently located just east of the SeaBus terminal and Lonsdale Quay.
Parking: There is street parking and free parking in the ICBC Parkade after 6:00pm on Fridays, which is adjacent to Lonsdale Quay.
Dogs: Well-behaved dogs, which are on a leash, are welcome.
Close to downtown Vancouver and easy to get to via the Seabus, those who join in on this weekly free event will see the Shipyards Plaza transformed into a lively celebration site and discover 150+ food and artisan vendors, a 19+ beer garden, and musical talent from across BC on the Shipbuilders' Stage. Bonus: The Shipyards Friday Night Market recognizes its potential environmental footprint, and is dedicated to using compostable cutlery and straws and to sorting and minimizing all waste.
Night Market Features
Dining
Skip dinner before heading to the night market, as there are typically 30+ local food trucks and food vendors set up in 'hot food alley.' New to the market this year are unique food trucks like the vegan double decker Buddha-Bus from the owners of Buddha-Full, the Chowdery and Truckin BBQ. Some returning favorites include Reel Mac & Cheese, Rolling Cashew, Tacofino, Mama's Fish & Chips, Taters and Urban Wood Fired Pizza. Visitors should leave room for desserts such as Pocket Pies, Dolce Amore gelato, Chouchou Crepes, Kettle Corn, Slavic Rolls and more.
Beer Garden (must be 19+ to enter)
Selections include local craft beer from a variety of local breweries including Bomber Brewing, vodka and gin sodas from Nude, red and white wine, and cider. With a 350-person capacity, there are plenty of seats with a great view of the stage and each evenings' headlining band.
Shopping & Entertainment
The Shipyards Friday Night Market believes in a local lifestyle and in showcasing BC's artistic and culinary artisans. The artisan marketplace, which is both inside The Pipe Shop and outdoors, features products such as jewelry, clothing, kids wear, baked goods, distilleries, cideries, preserves, soaps, plants, chocolate and more. New this year is a used book trailer. Need more to do? Along with some fun kids' entertainment, catch the weekly changing line up of BC bands and dance under the sun, and later, the stars.
Follow the Shipyards Night Market on Facebook for more info throughout the season.