Summer in Vancouver means a trip to the PNE with the family and no experience is complete without checking out the amazing entertainment lineup that the fair offers each year. This year is no exception with a roster of exciting PNE Summer Concerts announced this week.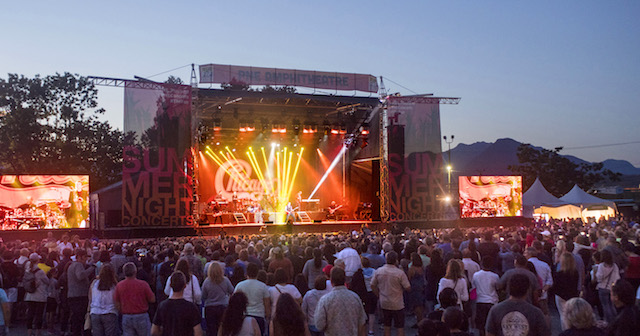 PNE Summer Concerts
The Summer Night Concerts, free with your Fair admission, will run nightly at 8:30pm in the PNE Amphitheatre.
Saturday, August 17, 2019: Blue Rodeo
Sunday, August 18, 2019: ZZ Top — Cheap Trick
Tuesday, August 20, 2019: 98 Degrees
Wednesday, August 21, 2019: Burton Cummings and Band
Thursday, August 22, 2019: Vince Neil the Legendary Voice of Mötley Crüe. Performing All The Mötley Crüe Hits
Friday, August 23, 2019: Smokey Robinson
Saturday, August 24, 2019: Now's The Time Tour – Collective Soul and Gin Blossoms
Sunday, August 25, 2019: STYX
Tuesday, August 27, 2019: UB40 – For The Many – 40th Anniversary Tour
Wednesday, August 28, 2019: Colin James
Thursday, August 29, 2019: I Love the 90s featuring VANILLA ICE, MONTELL JORDAN, BIZ MARKIE, ROB BASE
Friday, August 30, 2019: Hammer's House Party – MC Hammer with Special Guest Bobby Brown
Saturday, August 31, 2019: Billy Idol
Sunday, September 1, 2019: The Beach Boys
Monday, September 2, 2019: TLC – 25th Anniversary Tour
Seating & Reserved Tickets
A minimum of 2,000-4,000 general admission tickets will be available FREE with admission, for each show, available both onsite at the PNE Amphitheatre Box Office at no cost and online (with a $3 service fee) on show days beginning at 11:00am. Reserved tickets start at $25 and will go on sale Friday, May 24, 2019 at 10:00am. Reserved seat tickets do not include Fair Gate admission.
Entertainment and Attractions
Experience Game Changers – the evolution of video games, Snap Happy: A Do-It-Your-Selfie Experience, and Dinosaur Stomp: A Roaring Adventure. In the newly reimagined Revel District, indulge your wild with an expanded food offering, mechanical bull riding, and live shows from strong woman Mama Lou, zany comedian Mike Wood, and Tuck Entertainment's drag superstars.
The SuperDogs are back for a magical new show and the Knights of Valour live jousting show returns by popular demand. The Legend of Reveen continues with The Superconscious Experience, nightly at the Pacific Coliseum.
The Fair will run from Saturday August 17, until Monday September 2, 2019. Open 11:00am until late (weather permitting).
Follow the Fair at the PNE on Facebook and Twitter for daily info.