Last year was the first time I visited the ancient village site of Kiixin with a guide from the Huu-ay-aht First Nation on Vancouver Island. This year, I went with a group tour and learned even more about this amazing place.
Kiixin Tours offers free guided experiences, with exclusive access to this important historic site, which has the most intact example of First Nations village architecture on the southern coast of BC.
5,000 Years of History on Vancouver Island
Kiixin Tours
In the forest…
I love a good nature walk through the rainforest, and I also love hearing about how the local First Nation lived off, and with, what the land provided. On the tour we heard about Culturally Modified Trees, how to spot them, and how the ancient – and modern – culture used them while maintaining their integrity in the forest.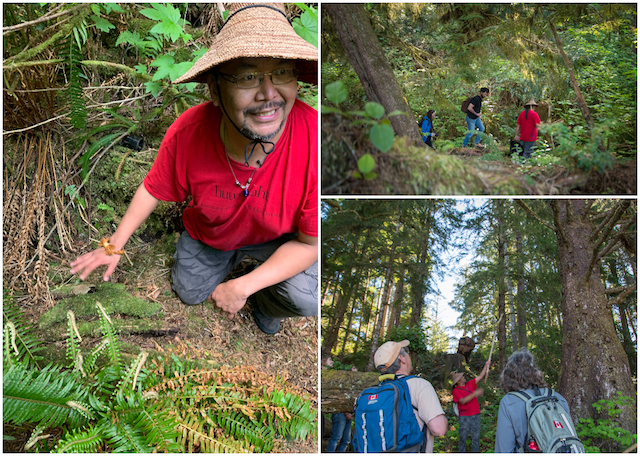 Once you reach the ancient site, you'll spot trees that have completely re-absorbed longhouse posts, or that have enveloped their nurse logs out of which they originally grew on the forest floor. You won't just see a forest, you'll see life. You may even spot a whale bone or two near the remains of the Whaler Chief's house.
On the beach…
I love the diversity of sea life on the beach: Starfish, crabs, GIANT oyster shells. Everything is pink, white, purple, and turquoise, which contrasts the lush green of the forest. On the beach is where your guide will provide a history of the area, along with supporting photographs, maps, and renderings. My favourite part was "story time" as our guide Wisqii said, as he walked up to a rock on the shoreline and took a seat to play his drum and sing a song.
Want to know more about this experience? I have a full recap over on ZenSeekers.com »
When You Go
FREE tours start June 15, 2019.
Access Bamfield (and Kiixin) via Port Alberni. Good tires are recommended for the gravel road between the two, which is well-signed.
Read more about Kiixin on ZenSeekers
Want to hike to Kiixin? Visit the tour site here »
Search #ExplorePortAlberni for more inspiration. Be sure to tag #ExplorePortAlberni while exploring the region as you could be featured on ZenSeekers' social media channels.
Looking to get the most out of your trip to Kiixin? Check out ZenSeekers' one-day itinerary.
Start planning your adventures in Port Alberni at Alberni Valley Tourism.
Start exploring your Port Alberni region options with Destination BC.
Find out more about the City of Port Alberni on their website.