If you like live music, food trucks and family friendly entertainment you'll love these free festivals happening in metro Vancouver this summer. Check back often as this list will be updated throughout the season too!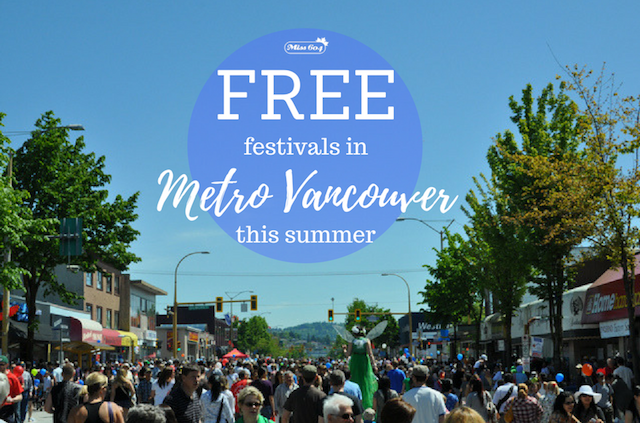 Burnaby Heights Hats Off Day
When: Saturday June 1st, 2019 from 9:30am to 4:00pm
Where: Hastings St, all the way from Boundary Rd. to Gamma Ave.
Hats Off Day is a huge, one-day street festival featuring a colourful main-street style parade with real local flavour, followed by a big street party. Hastings Street from Boundary Road to Gamma Avenue is car-free, and our streets are packed with families, friends, neighbours, and merchants!
More Info: Website | Facebook | Twitter
Italian Day on The Drive
When: Sunday June 9, 2019 12:00pm to 8:00pm
Where: Commercial Drive
Italian Day on The Drive is a vibrant cultural street festival celebrating Italian culture, heritage and community. The event includes over 120 street participants, comprised of partners, vendors, community organizations – and an estimated 300,000 attendees of all ages and cultures.
More Info: Website | Facebook |Twitter
Point Grey Fiesta
When: June 21-23, 2019.Friday June 21, 2019 from 3:00pm to 10:00pm (10:30am to 8:00pm on Saturday and 12:00pm to 5:00pm on Sunday)
Where: Trimble Park (2250 Trimble St, Vancouver)
Come kick up your heels at the annual Fiesta Day parade on the Saturday morning and then head over to the celebration at Trimble Park.
More Info: Website | Facebook
Lynn Valley Days
When: Saturday, June 22, 2019 from 9:00am to 4:00pm (pancake breakfast from 8:15am to 9:45am, beer garden from 12:00pm to 6:00pm)
Where: Lynn Valley Park
Lynn Valley Day starts with a local parade and continues with a day full of family focused activities including games, face painters, live entertainment and a pancake breakfast.
More Info: Website | Facebook
Car Free Day in Vancouver
When: West End Saturday June 15th, Main Street Sunday June 16th, Commercial Drive Sunday July 7th, 2019
Where: Main Street, West End, Kitsilano, and Commercial Drive
Highlights: 4 festivals, 3 days, 2 weekends of community block parties, live music, and more. Main Street spans 21 blocks and will have 15 stages; West End will be all along Denman from Robson to Davie, and there will be block parties all throughout Kitsilano.
More Info: Website | Facebook | Twitter
Khatsahlano Street Party
When: Saturday, July 6, 2019 11:00am to 9:00pm
Where: Along West 4th Ave in Kitsilano
Highlights: Khatsahlano, features multiple stages showcasing more than 50 of Vancouver's top musical performers as well as the eclectic work of local artisans and street performers. This 10-block street fair, spanning from Burrard to MacDonald Street also features a wide variety of food options, bustling patios, giveaways, special activities, and licensed beer gardens!
More Info: Website | Facebook | Twitter
Carnaval del Sol
When: Saturday, July 6th and Sunday, July 7th, 2019
Where: 88 Pacific Blvd, North False Creek
Highlights: The largest latin carnaval in the Pacific Northwest. Live music, dancing, art, a beer plaza, a travel plaza with cooking demos, family plaza with fashion shows, kids plaza, food plaza and more.
More Info: Website | Facebook | Twitter
Surrey Fusion Festival
When: Saturday, July 20th and Sunday, July 21st, 2019
Where: Holland Park, Surrey
Highlights: Enjoy activities, crafts, food, and demos from dozens of vendors and over 40 cultural pavilions. Over 70 performances will be scheduled on 4 stages throughout the two-day festival.
More Info: Website | Facebook | Twitter
Columbia StrEAT Food Truck Festival
When: Saturday, July 27, 2019
Where: Downtown New Westminster
Highlights: Food trucks, beer gardens, live music, and more. Join 120,000 other attendees for North America's largest one day food truck festival, admission is free.
More Info: Website | Facebook | Twitter
Richmond Maritime Festival
When: July 27-28, 2019 11:00am to 6:00pm
Where: Britannia Shipyards in Steveston
Free family festival every summer, for seafarers and landlubbers alike to celebrate Steveston's waterfront heritage at the spectacular Britannia Shipyards, National Historic Site in Richmond.
More Info: Website | Twitter
Harmony Arts Festival
When: August 2-11, 2019
Where: West Vancouver's waterfront, between 14th & 17th St on Argyle Ave
Highlights: Enjoy visual art exhibit, art market (two weekends), outdoor concerts on two stages, licensed beachside restaurant spaces in the heart of the action, variety of food vendors and delicious treats, drop-in art activities for both kids and adults.
More Info: Website | Facebook | Twitter
Kaleidoscope Arts Festival
When: August 10th, 2019
Where: Town Centre Park, Coquitlam
Highlights: Celebrate the arts, indulge in delicious food and check out the craft brew scene and the unique finds at the artisan market, all while enjoying an amazing lineup of entertainment.
More Info: Website | Facebook | Twitter
Coquitlam Farmers Market Blueberry Festival
When: Sunday July 14th, 2019 9:00am
Where: Coquitlam Farmers Market 624 Poirier St
Sample the best blueberry products vendors have to offer, play some blueberry-themed games, or check out a cooking demo.
More Info: Website |Twitter
Bridge Festival
When: Friday, May 31st, 2019 4:00pm to 9:30pm
Saturday, June 1st, 2019 11:00am to 9:30pm
Where: Ambleside Park 1150 Marine Dr, West Vancouver
West Vancouver's long-standing Community Day is being transformed into Bridge Festival, a new multicultural celebration taking place on Friday, May 31 and Saturday, June 1, 2019. At this free event, people will come together at Ambleside Park to enjoy food, live music, performances and culture.
More Info: Website | Facebook
Have more to add? Send in your event and festival info for a free listing in Miss604's monthly event roundup or to be included in this post.