Arts Umbrella is thrilled to unveil its 2019 Expressions Theatre Festival lineup, presented by Coromandel Properties, running May 17–25 at Waterfront Theatre on Granville Island.
Showcasing some of Vancouver's most talented young artists, the annual festival boasts a curated selection of theatre and musical theatre classics. The festival features performances by students in the Pre-Professional Program: Arts Umbrella's Junior and Senior Musical Theatre Troupes, and its Junior and Senior Theatre Troupes.
Expressions Theatre Festival
Where: Waterfront Theatre ( 1412 Cartwright St, Granville Island)
When: May 17-25, 2019
Tickets: Available online now
This year audiences will be treated to a selection of family-friendly programming, including the fairy-tale classic Peter Pan, the whimsical musical rendition of James and the Giant Peach, the mythical Animal Farm, and the magical tale of Into the Woods.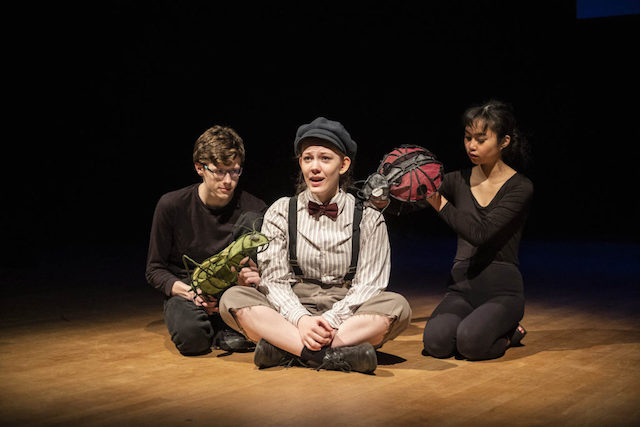 James and the Giant Peach
Sunday May 19 @ 4:00pm & Thursday May 23 @ 7:00pm
Tickets: $12
When James is sent by his conniving aunts to chop down their old fruit tree, he discovers a magic potion that results in the growth of a tremendous peach… and launches a journey of enormous proportions. Suddenly, James finds himself in the center of the gigantic peach, among human-sized insects with equally oversized personalities. After the peach falls from the tree and rolls into the ocean, the group faces hunger, sharks and plenty of disagreements. Thanks to James' quick wit and creative thinking, the residents learn to live and work together as a family.
Peter Pan by J.M. Barrie
Saturday May 18 @ 7:00pm & Friday May 24 @ 7:00pm
Tickets: $12
Peter and his mischievous fairy sidekick Tinkerbell visit the Darling children nursery late one night and, with a sprinkle of pixie dust, begin a magical journey across the stars that none of them will ever forget. In the adventure of a lifetime, the travelers come face to face with a ticking crocodile, the lost boys, a band of bungling pirates and, of course, the villainous Captain Hook.
Animal Farm by Nelson Bond, George Orwell
Saturday May 18 @ 9:00pm & Friday May 24 @ 9:00pm
Tickets: $12
George Orwell's stinging allegory to communism is brought to life on stage. Old Major's dream comes to fruition after the creatures emancipate themselves from the cruel mastery of a human owner during their triumphant rebellion. His dream inexorably turns to a nightmare of disillusionment in which the other animals discover themselves now subject to the rule of even more ruthless autocrats: the greedy, cunning pigs. Meet the beasts whose prototypes continue to dominate news headlines. Animal Farm wrings the emotions, leaving audiences shaken with the tale of a tragedy that happened in a mythical barnyard far away but could happen in our own backyard.
Into the Woods
Music and Lyrics by Stephen Sondheim; Book by James Lapine
May 17, 19, 21, 22, 25 @ 7:00pm
Tickets: $20
James Lapine and Stephen Sondheim take everyone's favorite storybook characters and bring them together for a timeless, yet relevant, piece. The story follows a Baker and his wife, who wish to have a child; Cinderella, who wishes to attend the King's Festival; and Jack, who wishes his cow would give milk. When the Baker and his wife learn that they cannot have a child because of a Witch's curse, the two set off on a journey to break the curse.
Win Tickets and More
I have a family four-pack of tickets to give away plus $200 towards registration for an Arts Umbrella program! Here's how you can enter to win:
Leave a comment on this post (1 entry)
Click below to post an entry on Twitter
[clickToTweet tweet="RT to enter to win tickets to the Expressions Theatre Festival @ArtsUmbrella http://ow.ly/y7ix30oJuWX" quote=" Click to enter via Twitter" theme="style6″]

Follow Arts Umbrella on Facebook, Twitter, and Instagram for more info. I will draw one winner at random at 9:00am on Friday, May 17, 2019.

UPDATE The winner is Tania!