Disney on Ice Presents Mickey's Search Party in Vancouver, bringing the magic closer to fans than ever before through dynamic and immersive moments that take place on the ice, in the air and in the seats.
Disney on Ice Presents Mickey's Search Party in Vancouver
Where: Pacific Coliseum
When: November 28th, 2019 at 7:00pm 

November 29th, 2019 at 7:00pm
November 30th, 2019 at 11:30am / 3:30pm / 7:00pm
December 1st, 2019 at 11:30am / 3:30pm

Tickets: On sale now starting at $18 plus fees
I had the opportunity to preview the show in New Orleans earlier this season, and it was like no other ice show I had seen before! The acrobatics and skating stunts were impressive – and exhilarating. What made the experience even more memorable was when the entire arena sang along to their favourite songs. Talk about chills!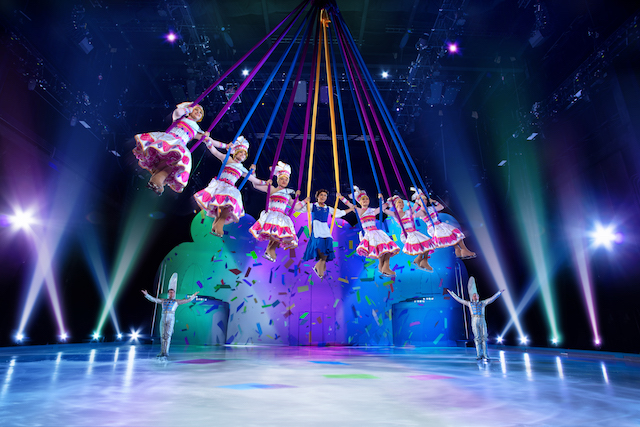 Mickey's Search Party features a collection of Disney characters fans know and love portrayed by decorated performer-athletes who push the boundaries of what is possible. Their theatrical talent combined with this innovative Disney On Ice production elevates the live entertainment experience and will leave families with memories that will last a lifetime.
Joined by Mickey Mouse and Minnie Mouse, live hosts will enliven the performance space by welcoming everyone into the magical world of Disney On Ice, setting the stage for a participatory adventure. Guests will embark on a search for clues to find Tinker Bell after Captain Hook tries to capture her magic. As each scene unfolds, compelling storytelling will be delivered through multi-level production numbers by skaters, performers and acrobats alike.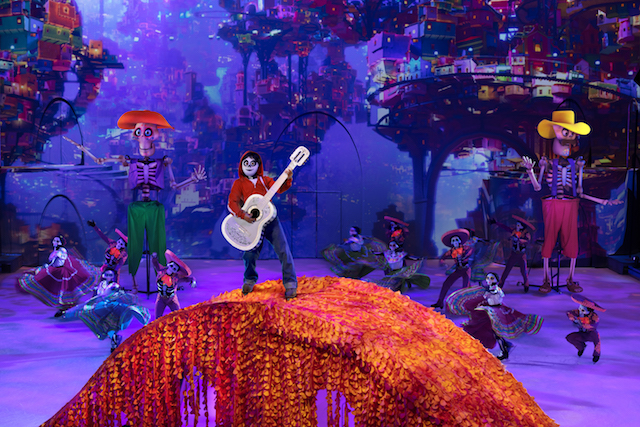 As Miguel from Disney●Pixar's Coco crosses the marigold bridge, he finds himself in the magnificent and mystical Land of the Dead. In this culturally rich, vibrantly colourful performance, skeletons atop sway poles swing back and forth over the audience in a dazzling display perfectly suited to this exciting and beautiful celebration of family. Through video projection, Arendelle builds from the ground up, and ice harvesters from Disney's Frozen use extreme skating to launch themselves from the mountainous, wintry slopes delivering an athletically-driven performance as they chop their way through blocks of ice. The iconic chandelier seen in "Be Our Guest" comes to life as Belle and the enchanted objects from Beauty and the Beast become a rotating carousel using aerial silks and lift upward into the air, mesmerizing onlookers seated above and below.
In a high-energy opening number, Club Mickey Mouse-inspired performers will hype up the crowd through cutting-edge figure skating choreography and hoverboard tricks on the ice. Air tracks will also allow the hilarious pirates aboard the Jolly Roger to flip, tumble and twist to greater heights as they attempt to showcase their talents for Captain Hook. Aerial straps combined with adagio pair skating will elevate Ariel's transformation from mermaid to human creating a spell-bounding sequence high above the ice with Prince Eric to the classic song, "Kiss The Girl." Creative costume design and fabrication will enhance the scenes as the ensemble imitate life "Under the Sea" from Disney's The Little Mermaid and will also give the illusion the ice is enveloped in flames as Moana encounters Te Ka on her daring voyage to restore the heart of Te Fiti.
Produced by Feld Entertainment Inc., the worldwide leader in live touring family entertainment, Disney On Ice is once again elevating the ice show experience with brand-new engaging elements that will fascinate both newcomers and seasoned guests alike.
For more information, follow Disney on Ice on Facebook, Twitter, Instagram and YouTube #DisneyOnIce #MickeysSearchParty. Stay tuned for more insights when I share more about my experience behind the scenes at Mickey's Search Party and get your tickets to the Vancouver show today.