The Concord Pacific Dragon Boat Festival is three days of music, cultural installations, local artisans and family-friendly activities and racing happening June 21-23, 2019.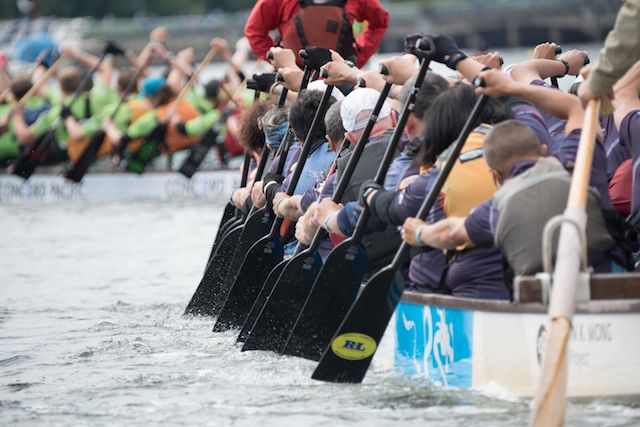 Dragon Boat Festival 2019
When: June 21-23, 2019
Where: Concord Pacific Place, Creekside Park, and False Creek
Admission: As always, all of the attractions and entertainment on site are free! RSVP on Facebook for more info »
The festival has grown from a local Vancouver event to become North America's flagship dragon boat festival, drawing 6,000 racers from across the world. New this year – an investment in the live music program by Creative BC and the Province of British Columbia means that visitors will enjoy an extensive revamped entertainment program. 
All Access Friday
Friday includes Boat Blessing and eye dotting ceremony, free live music, a team welcome party, survivor showdown and flower ceremony and Feature Race: Concord Pacific All Access Cup- a 100 M knockout race featuring paddlers racing to raise awareness of different charities. Live entertainment includes Buckman Coe (6:15pm) and Jill Barber (7:45pm).
International Saturday
Free live music, food trucks, circus shows, family activities and food trucks, the Red Truck Patio, circus shows, and Feature Races: Concord Pacific Champions Race Series. The music schedule is Alexandria Maillot (11:30am), Tourist Company (1:00pm), Schwey (2:30pm), Little Destroyer (4:00pm), k-os (5:30pm) and Yukon Blonde (7:00pm).
Championship Sunday
200+ teams compete in over 25 medal events and finals on Sunday. Free live music, family activities, and cultural entertainment, food trucks and festival wrap party. Feature Races: Divisional Finals and Grand Final Races.
Sunday's music schedule is Beat Spirit (10:00am), Stephanie Pedraza Flamenco (11:00am), Silk Road (12:30pm), Los Duendes (2:00pm), Coco Jafro (3:30pm), Salsahall Collective (5:00pm), Mai Tai Friday (6:15pm).
For more information follow Dragon Boat BC on Twitter and Facebook.