Cherry blossom petals pirouetted in the entranceway of Arts Umbrella's East 7th location when I rang the bell to meet up with Artemis Gordon, Artistic Director of the Arts Umbrella Dance Company ("AUDC"). Inside, graduate students were rehearsing for the season finale show, BE MOVED.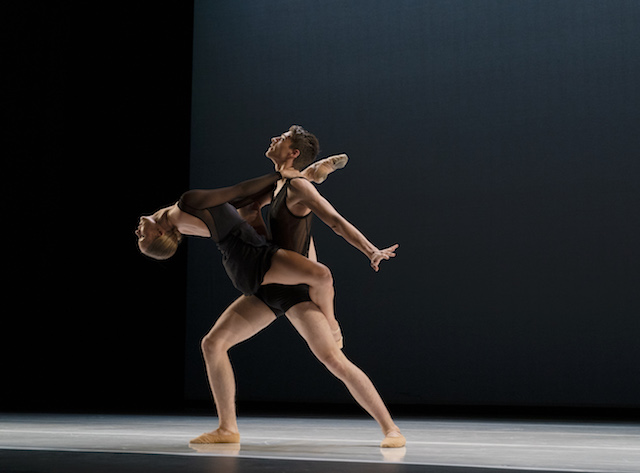 There are two studios at this location, with three more on Granville Island. The new permanent Arts Umbrella space will be the refurbished Emily Carr University building on Granville Island once renovations are complete. "I would say that I foresaw this growth my first day," Gordon told me as rehearsals continued. "I came here from Toronto and it was with a bit of a mission to develop and understand and research and create a community for contemporary dance."
Season Finale is Just the Beginning
"This was always a goal, to have more studios, to be able to offer more programming, and to have the flexibility to be able to do multiple things that further the art form, and further the education in the program."
Arts Umbrella's growth is attributed to its world-class programming, and the reputation of its staff, choreographers, and dancers. In fact, more than half of Ballet BC dancers are Arts Umbrella graduates and many grads are dancing all over the world. "There's a real ripple of what's happening in the dance world right now because of what we've been doing at Arts Umbrella."

For BE MOVED, the production will include pieces by Crystal Pite, Emily Molnar, Johan Inger, Lesley Telford, James Kudelka, Mats Ek, and Amos Ben-Tal.
"If you are a human being that has listened to music and walked, you know dance. Whether or not you are able to do what they do on stage, that's another thing, but you know it. We all know what dance is." – Artemis Gordon
Gordon tells the dancers: "The reason we have these amazing choreographers is on the reputation of what people have already done. It's your responsibility to do the work, then I get these choreographers for the future. It's uncanny to have the roster that we have, of professional choreographers and dance artists."

From the ground up, Gordon says it's the Arts Umbrella work ethic that also makes a difference.
"We do a lot of new creations which means there's an entire skillset that is identified, and worked on, and articulated, and developed. We have a great work ethic and respect for the work in the studio and that we have these amazing choreographers really makes my job easy. I think it's really a testament to the work that's being done in the program."
Arts Umbrella's Season Finale BE MOVED
Where: Vancouver Playhouse (600 Hamilton, Vancouver)
When: May 23-25, 2019
Tickets: Available online now
Arts Umbrella Dance Company's Season Finale: BE MOVED will be the culmination of months of exploration and rehearsal of bold and innovative works created for AUDC dancers by leading International and Canadian choreographers.
As someone whose only on-stage dance experience has been watching The Nutcracker at Christmas, I asked Gordon what someone like me could expect from BE MOVED.
"A divergence, a great diversity of music, a diversity of ideas, you'll see everyone's vision of what they think dance is. You're going to see some extraordinary commitment of young people on stage, a real virtuosity of the ability to create new movement – not movement that is programmed or has been done before – but a new way of approaching movement vocabulary. You'll see what is the human potential."
We popped in on the class one more time as she whispered and pointed at all of the international students who sought out Arts Umbrella. "I just wish that it didn't have an elitist connotation," Gordon added as we walked back into the hallway. "Doing it is elite, it's hard! It is a 12 year rigorous study to be able to do what these kids do and then you can only do it until your body says no more, but watching it is a lifelong thing."
"I hear other people say I don't get it. But why would you expect to get it? Nobody asks you to explain music, and somehow we feel it's ok to just feel music. But why is it with dance, we feel we need to know it or get it?" That's what Gordon really wants to break down. "We're all the same. Everyone feels that urge to express themselves physically, through what we wear, how we do our hair, the choices of what we say or where we go. It's all the dance of our lives."

Win Tickets
I have a pair of tickets to give away to the opening night performance on May 23rd, thanks to Arts Umbrella. Here's how you can enter to win:
Here's how you can enter to win:
Leave a comment on this post (1 entry)
Click below to post an entry on Twitter
[clickToTweet tweet="RT to enter to win tickets to #BEMOVED the season finale of the @ArtsUmbrella Dance Company http://ow.ly/4dD330oIKQd" quote=" Click to enter via Twitter" theme="style6″]

Follow Arts Umbrella on Facebook, Twitter, and Instagram for more information about the Dance Company, and their programs. I will draw one winner at random from all entries at 12:00pm on Friday, May 17, 2019.

UPDATE The winner is Jessica!