A storied totem pole, a make and take art class, gallery gift shops, high tea and live music — you can find all of this and more in Port Alberni this summer. You may know Port Alberni for its natural beauty (from lookout hikes or a swim in Sproat Lake), but you can also plan an entirely arts and culture themed getaway to the heart of Vancouver Island this summer. On assignment with ZenSeekers, I scouted out 4 spots to add to your itinerary:
Arts and Culture in Port Alberni
Stop 1: Wood Carving
Start your arts and culture adventure on the waterfront where artist Tim Paul is making history. You can stop by to watch a totem pole take shape on the 40-foot long red cedar, and if you spot fellow artist Cecil Dawson, he'll be happy to give you a wood carving lesson on the spot. Talk about inspiration! Read more about the totem project in my ZenSeekers story here »
Stop 2: Glass Workshops, Make & Take
Paint nights are all the rage, and Costal Flow Glass Co notches the concept up to a whole other level. Did you ever think you'd be able to create glistening and colourful stained glass pieces? How about a framed sea glass sea scape? Michelle Frost's workshops – private for you and your friends, or regularly scheduled sessions – give you access to unique materials and concepts you may not have even dreamed of working with before. The best part is you get to take your creation home to display proudly.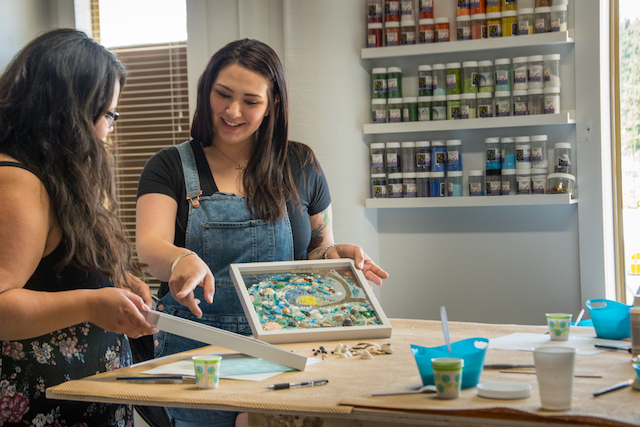 Stop 3: DRAW Gallery
If there's one person in town who knows what arts festivals and events are coming up, it's Astrid Johnston over at DRAW Gallery. Originally from Quadra Island, she brought her passions for creative cultural events to Port Alberni. Her gallery walls are filled with the latest local art exhibitions, and posters and all upcoming happenings.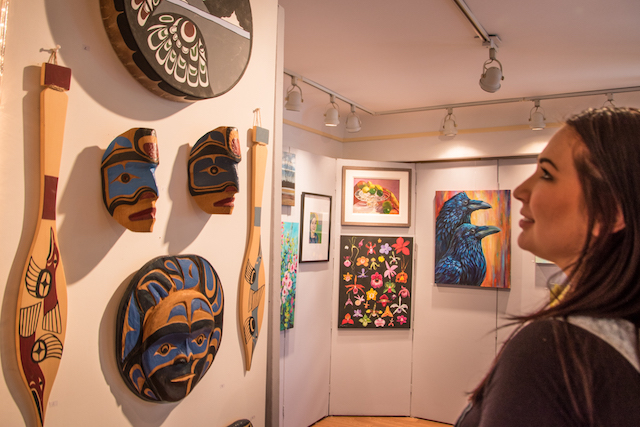 Stop 4: Rollin Arts Centre
Do you know the difference between High Tea and Low Tea? Enjoy both at the Rollin Arts Centre on Thursdays starting in July. Their Tea on the Terrace includes delectable snacks, live music, tea, and access to the gallery gift shop and fragrant flower garden.
Want to browse the works of over 80 artists? Take part in the Solstice Arts Festival June 14-15, 2019! 15 venues will showcase local painters, metal artists, photographers, glass artists, wood carver, silversmiths, First nations artists, potters, jewelry, and mixed media. FestivalSeekers has all the info about this festival and more here »
When You Go
Uncover more about the Port Alberni region's offers for adventure. Check out ZenSeekers' #ExplorePortAlberni Expedition page to see how you can have an adventure like this.