Two of the largest Vaisakhi celebrations outside of India occur in Surrey and Vancouver each spring, with community events and parades. Considered one of the most important festivals in the Sikh calendar, you can join hundreds of thousands to celebrate the new year at these two local events: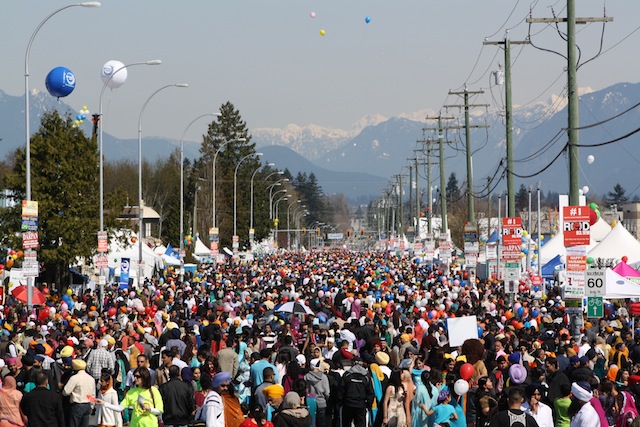 Vaisakhi Parade Surrey
Website
When: Saturday, April 20, 2019 festivities from 9:30am to 4:00pm
Where: Starting out from the Gurdwara Dashmesh Darbar Temple (12885 85th Ave). The parade, which features a variety of floats, community groups, live music and dancers and performers travels along 124th Street, turns left onto 75th Avenue, continues on 76th Avenue, onto 128th Street, then back to the Temple. View the parade map here »

Vaisakhi Parade Vancouver
Website | Facebook
When: Saturday, April 13, 2019 from 11:00am to 5:00pm
Where: Starting out from the KDS Ross Sikh Temple (8000 Ross St, Vancouver) heading up to the Punjabi Market (49th to 51st Ave on Main St) and back, you can view the full parade route here »

Guests of all cultures and religions are invited to these peaceful, family-orientated celebrations, which will also have plenty of delicious food!