The World's Largest Annual Film Festival Celebrates 100 Years of Canadian Cinema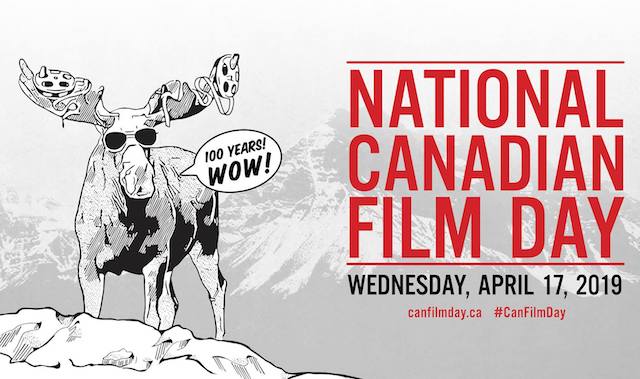 Today is National Canadian Film Day ("NCFD") with more than 1,000 screening events taking place in 600 Canadian communities and 25 countries, from the northern tip of Baffin Island to St. John's, NL, to Tofino, BC, and from Paris to Kathmandu.
Presented by REEL CANADA with support by the Government of Canada, NCFD is a coast-to-coast-to-coast celebration of Canadian film.
This year's theme — celebrating 100 years of Canadian cinema — was prompted by the centennial of Canada's first genuine blockbuster, and oldest surviving feature film: Nell Shipman's BACK TO GOD'S COUNTRY, a sassy, snowy adventure story that remains Canada's most successful silent film. REEL CANADA's executive team and staff came together to curate the "Spotlight 100", offering a selection of films that are equally chock-full of snow and sass!
Many screenings will feature discussions with special guests such as Colm Feore, Atom Egoyan, Alanis Obomsawin, Denys Arcand, Johanne Marie Tremblay, Don Shebib, Liane Balaban, Lisa Langlois, Deborah Grover and Kawennáhere Devery Jacobs. Other notable participants include: Deborah Ellis, Peter Keleghan, Mary Young Leckie, Charles Officer, Mina Shum, Veronica Tennant and Bobby Shore, among many others. Community partners have invited their mayors, historians, musicians, Indigenous elders, and even professional wrestlers.
Watch
In Vancouver, the Vancouver International Film Festival ("VIFF"), in partnership with Netflix, presents a 45th anniversary screening of THE APPRENTICESHIP OF DUDDY KRAVITZ, and Indigenous film pioneer Alanis Obomsawin will be in attendance for a day-long spotlight on several of her films, including her 2013 documentary HI-HO MISTAHEY!
There will be broadcast offerings on major outlets (on tv and streaming) including Hollywood Suite, CBC, APTN, Bell Media, Blue Ant Media, CORUS, DHX Media, OUTtv, Superchannel, Super Ecran and Cine Pop. Online streaming partners including Encore+ CBC, Bell Media and NFB will also have films to stream/screen.
View the full list of BC screenings here, taking place from Aldergrove to Lillooet and beyond.
Follow National Canadian Film Day on Twitter, Facebook, and Instagram for more info.