The Burnaby Festival of Learning (May 4-11, 2019) features a week-long series of free events for individuals, families and young (and not so young) learners, all designed to fulfill your desire to #LearnGrowThrive. Programming includes Arts & Culture, Sustainability, Science & Tech events as well as Health & Wellness:
Health & Wellness at the Burnaby Festival of Learning
Finding Cantonese Culture in the Diaspora (Adults)

Where: Burnaby Public Library, Bob Prittie Metrotown, 2nd floor, Multipurpose Space (6100 Willingdon Ave)
When: Saturday, May 11, 2019 2:00pm to 3:30pm
Presented by Kimberley Wong and Burnaby Public Library. Join Kimberley Wong as she digs into her experiences navigating through climate action and sustainability, queerness, and her Chinese Canadian identity through artful storytelling. Limited spots, register online »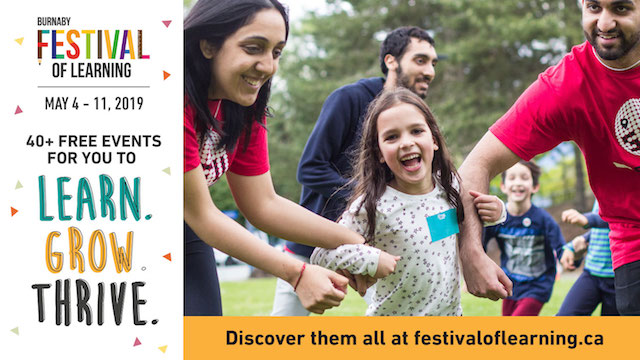 Burnaby Festival of Learning
Where: Venues throughout Burnaby
When: May 4–11, 2019
Tickets: All events are FREE! Check out the full event schedule here »
Now in its 4th year, the festival is co-presented by SFU and the City of Burnaby in partnership with BCIT, Burnaby Intercultural Planning Table, Burnaby Neighbourhood House, Burnaby School District, MOSAIC, and Tourism Burnaby.
Follow along on social media on Facebook and Twitter #LearnGrowThrive for more info.