Over the last few years, Love in the Square has become a tradition in Vancouver. Over 300 starry-eyed lovers have exchanged vows in the heart of the city, supporting a local cause with a donation. Organizers have announced that this will be the final year of free weddings at Robson Square, so your last chance to be a part of this unique (and fabulously frugal) ceremony is April 14th.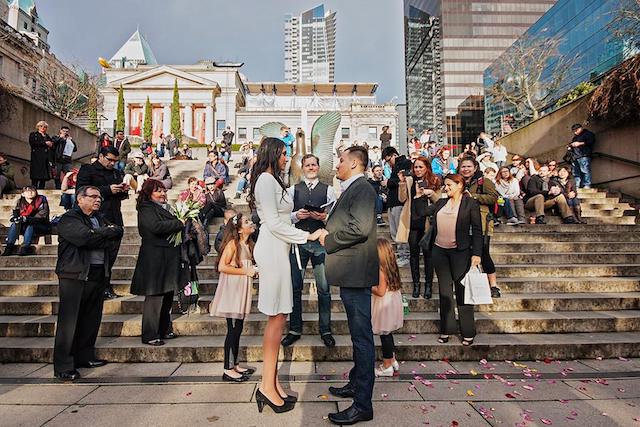 Free Weddings at Robson Square
When: Sunday, April 14, 2019
Registration at 10:00am, ceremonies 11:00am to 5:00pm
Where: Robson Square (under 800 block Robson St, Vancouver)
Cost: Bring you marriage license and a $20 donation to the Vancouver Food Bank.
The event will be first come first served but they will do their best to marry everyone that comes down that day. Couples only need themselves as well as a properly filled out marriage license. Having some witnesses is always a good idea but not 100% necessary. Pop Up Weddings asks that couples dress for the weather.
For more information, follow Pop Up Weddings BC on Facebook and Instagram.