Enjoy crafts, snacks, scavenger hunts, and family fun at these 6 Easter events around Metro Vancouver this April long weekend: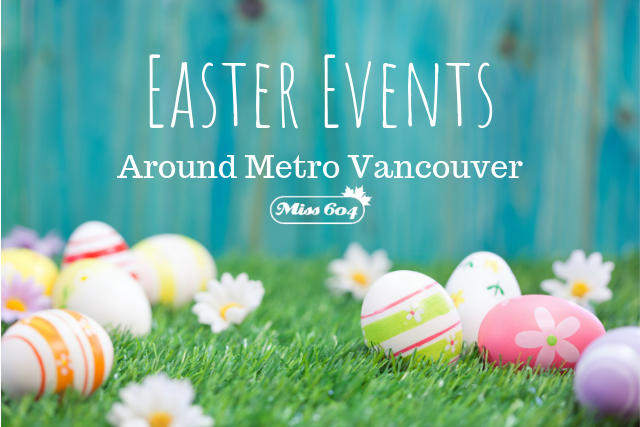 Easterfest at Taves Family Farms
Where: Taves Family Farms Applebarn (333 Gladwin Rd, Abbotsford)
When: April 19 to 22, 2019 from 9:30am to 4:30pm daily
Details: Bring the family and take a hay ride down the Bunny Trail and embark on an egg hunt in the apple orchard. Explore bunny town, jump on the jumping pillow, take a spin around the pedal cart track and more. Taves is also hosting its first event Adult Easter Egg Hunt in the evening on April 20th.
Easter at the Cannery
Where: Gulf of Georgia Cannery (12138 Fourth Ave, Richmond)
When: April 19 to April 21, 2019 hunts every 30 minutes 11:00am to 4:30pm
Details: This annual fun-filled family friendly weekend features crafts, story time, games, and of course, the Easter Salmon "Egg" Scavenger Hunt, all inside the Gulf of Georgia Cannery National Historic Site.
Easter Egg Hunt & Carnival
Where: Killarney Community Centre (6260 Killarney St, Vancouver)
When: Friday, April 19, 2019, 9:30am to 1:00pm
Details: The event will feature a bouncy castle, dance party and so much more! The Easter Egg Hunt portion of the event will take place indoors. All participants are guaranteed to take home a prize.
Easter at the Vancouver Aquarium
Where: Vancouver Aquarium (845 Avison Way, Vancouver)
When: April 19 to April 22, 2019 open 10:00am to 5:00pm daily
Details: This Easter, uncover all of the quirky and curious facts about the 50,000 creatures living at the Vancouver Aquarium – where weird is normal. Take part in the eggs-tradordinary Easter scavenger hunt, and discover which animal uses its mouth as an egg incubator, and which fish's eggs are laid in their very own 'purse'!
Old Fashioned Easter at Historic Stewart Farm
Where: Historic Stewart Farm (13723 Crescent Rd, Surrey)
When: Sunday, April 20, 2019 from 11:00am to 3:00pm
Details: This free, all ages event is ideal for making memories and taking beautiful photos. Other family fun activities include DIY rabbit ears, decorate egg shaped cookies, scavenger hunts, face painting and more. While there is no egg hunt at this year's event, families are encouraged to stroll the grounds, consider a walk through Elgin Heritage Park and utilize the photo opp area until 3:00pm.
Eggciting Easter Hop at VanDusen Garden
Where: VanDusen Botanical Garden (5251 Oak St, Vancouver)
When: Friday, April 19, Saturday, April 20, and Sunday, April 21 four sessions daily at 10:00am, 11:00am, 12:00pm, and 1:00pm
Details: Enjoy an unforgettable Easter experience with your kids (0 to 5 years). Kids can collect eggs near the maze area and receive a chocolate prize, and hop along to fun music on the great lawn. Take a photo with the Easter bunny, and enjoy other eggciting activities at the garden. Please bring your own basket. Bunny ears and costumes are encouraged with prizes awarded for best costume during each session. Tickets include entry to the entire 55-acre garden so make sure to enjoy a picturesque walk after the Easter activities.
Easter Activities at Fort Langley
Where: Fort Langley National Historic Site
When: Sunday, April 21, 2019 from 10:00am to 5:00pm
Details: Enjoy a relaxed scavenger hunt between 10:00am and 5:00pm where every child collects stamps and will receive a treat! For the "hoppiest" little bunnies, join an egg scramble at 11:00am, 1:00pm and 3:00pm. Children ages 5 and younger try to pick up as many foil eggs as they can before they're gone. Bring your own basket and arrive at least 30 minutes in advance to allow time for parking and to pay site entry.
Easter Fair at the Stanley Park Train
Where: Stanley Park Miniature Railway, off Pipeline Road in Stanley Park
When: April 18 to April 22 from 10:00am to 5:00pm, daily
Details: Hop on the Stanley Park Train for an egg-citing Easter ride through the forest and look for cotton-tailed inhabitants. After the train ride, kids can enjoy fun activities including: Scavenger hunt, meeting the Easter Bunny, Easter crafts, bouncers and carnival games, Bunny Burrow Maze, and Toddler Zone.
Easter in Queen's Park
Where: Queen's Park (3rd Ave, New Westminster)
When: Sunday, April 21, 2019 from 11:00am to 2:00pm
Details: Face painting, ArtsToGo workshop, crafts, entertainment and more at the Egg-Stravaganza Activity Stations and Queen's Park Farm. Easter bunny photos (suggested $2 donation). Free admission.
Dino Easter Egg Hunt at Britannia Mine
Where: Britannia Mine Museum, Britannia Beach, Sea to Sky
When: Sunday, April 21, 2019 at 11:00am & 1:00pm
Details: Britanniasaurus Rex is back again for the annual candy-free Easter Dino Egg Hunt. Find the eggs and then bring them to the mineral table to identify your treasures. While you're there, make sure to pick up your free gift before they're all gone.
For more activities, check out the big monthly April event list from Miss604 here »