This month's guest post is contributed by Dannie Piezas, Environmental Educator with the Stanley Park Ecology Society ("SPES")
A History of Herons in Stanley Park
In 1921, a Province article featured a scruffy tree with branches weighed down by large nests. This is our first record of a Pacific Great Blue Heron nesting colony in Stanley Park. They may have long been nesting here before this time, which is a meaningful connection to the Park's pre-colonial history, and today these birds continue to captivate onlookers who get to glimpse into the pre-historic… at living dinosaurs dwelling right in our city.
This colony has persisted through changes in the Park over the decades, moving from Brockton Point to an area by the Aquarium, to Beaver Lake, and to its current location near the Park Board head office on Beach Ave. Since 2001, the big birds have returned between February to March to this busy location each year, marking spring for many Vancouverites. It is known as the largest urban colony of Pacific Great Blue Herons in North America.
A History of Herons in Stanley Park
With this year's late snows and persistent cold, the herons took a while to gather around the heronry but finally settled in among the trees on March 11th after scoping out the area from nearby rooftops—their 19th consecutive return. Quickly taking up their courtship and chest-puffing displays, the herons can now be seen pairing up in the nests which are viewable through the Park Board's Heron Cam.
The public can choose nests to view by controlling the camera for a minute at a time, following the drama of the breeding season closely. Watch the herons' flirtatious "bill duels" and nest-building, glimpse their blue eggs, and coo over fuzzy nestlings as they hatch!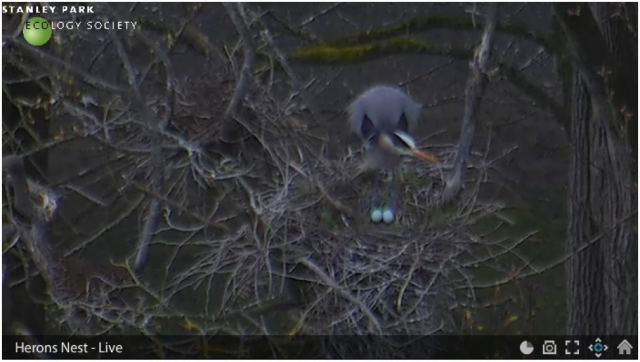 Our first colony survey after they returned this year found 106 nests and more than 80 herons in the trees, and this number will only continue to grow through the coming months until they fledge in August-September. Read about how the colony did last year on the Stanley Park Ecology Society's (SPES) 2018 heron report.
You can learn more about the Stanley Park herons and their behaviours through the Heron Cam page and the SPES website. You can also stop by the heronry on Wednesday afternoons to engage a SPES naturalist right underneath the action, or follow the Vancouver Park Board and SPES on Twitter for the latest updates (tweet your questions with #HeronTalk). If you would like to personally support the herons, please consider joining our Adopt A Heron Nest program where your proceeds go to their research and conservation.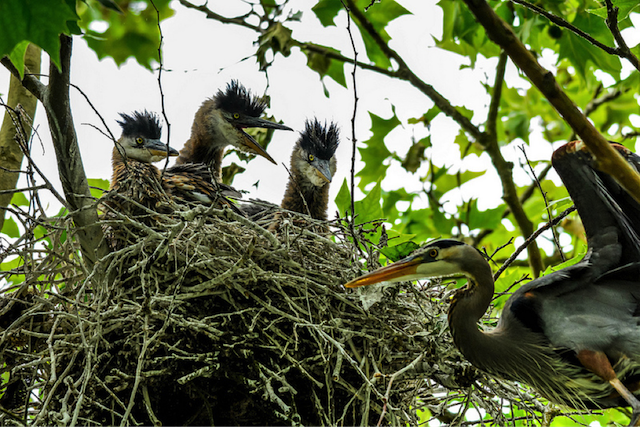 The Pacific Great Blue Heron is a species-at-risk due to habitat loss and population decline. SPES gathers data on the number of birds, nests, eggs, and chicks to determine the colony's productivity and population size. We also install and maintain metal bands on the trees to protect the herons from predators like raccoons. Even though the exact location of the nests will inevitably change, we hope that—with your help—these wonderful herons will continue to call Stanley Park home for another 100 years.
About SPES Saturday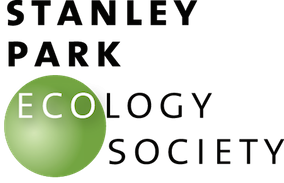 As a member of the Stanley Park Ecology Society, I wanted to offer the organization an opportunity to share their news, events, and work so I created the "SPES Series" years ago. This is where SPES can contribute and share stories with my audience once a month. Follow SPES on Facebook for more information.