LitFest New West brings together readers, writers, community for two days of celebrating New Westminster's literary arts community April 26 & 27, 2019.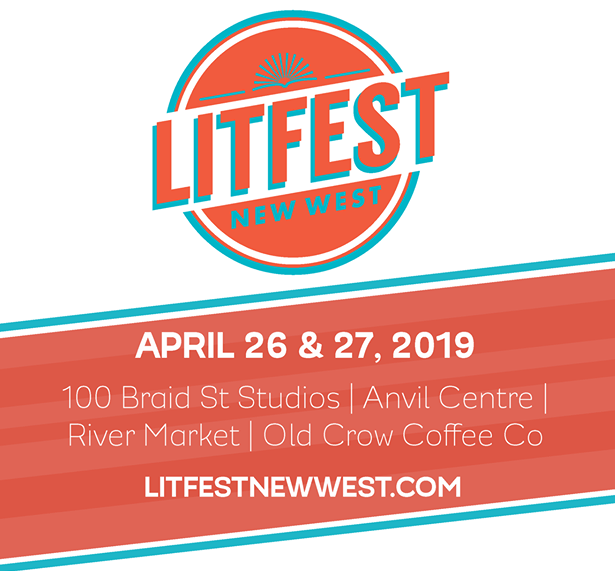 9th Annual LitFest New West 
When: April 26 & 27, 2019
Where: Various venues including 100 Braid Street Studios, Anvil Centre, Old Crow Coffee Co and River Market
Tickets: Free! Register online here.
Showcasing BC's vibrant talent, the 9th annual LitFest New West returns with an exciting mix of featured author events, writing workshops, and poetry panels at venues throughout New Westminster.
The festival will begin with a special kickoff with Natural State: Three Poets at 100 Braid Street Studios from 6:30pm to 9:00pm on Friday April 26, 2019. A poetry panel featuring Jónína Kirton, Rob Taylor, and Isabella Wang will be moderated by Christina Myers. Presented in partnership with the Federation of BC Writers, this event features three accomplished poets sharing their most recent works.  
Saturday features a wide range of author workshops for literary artists looking to develop their skills. Royal City Literary Arts Society have curated four writing workshops taking place on Saturday April 27, 2019 at the Anvil Centre. Presenting authors include a sensory writing workshop with Cynthia Sharp, understanding how literary artists are performers with Tawahum Bige and Chelsea Franz, a flash fiction workshop with Cathleen With and Indigenous storytelling with Tekatsi'tsaneken Everstz.
Saturday's featured evening event, Read Aloud: An Evening of Writers, takes place at River Market (7:00pm to 9:00pm) featuring a presentation of New Westminster's newest Poet Laureate, Alan Hill, the unveiling of the winners of the 2019 Darychuk Law Short Story Competition, a partnership between the New West Hospice Society and the Arts Council of New Westminster.
The festival will be rounded out with a variety of workshops and events happening throughout the community featuring readings by local authors and poets. New West Writers hosts a Critique Session at the Anvil Centre, there will be a Slam Poetry event by the New Westminster Secondary School Creative Writing Club, and Stories from the Heart will be held in the back room of Old Crow Coffee Co presented by Laughter Zone 101.
For more information follow LitFest on Twitter, Instagram and Facebook.