The 2019 Vans Hi-Standard Series is excited to announce the final stop of the 2019 tour season, and it's right here in North Van! From March 29 to March 30 the celebrated snowboarding event series will culminate at Mt. Seymour to determine the official 2019 Hi-Standard Series winners. The finale will close out the series with a live musical performance by a surprise guest, Vans prizes, giveaways and free waffles for all!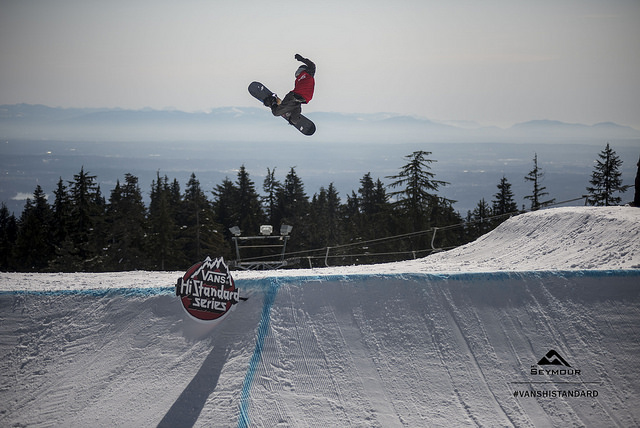 Vans Hi-Standard Grand Finale at Mt. Seymour Schedule
March 29, 2019
8:00am to 2:00pm:
Hi-Standard Series Final Round – for everybody just need to register, it's free!
10:00am to 3:00pm:
Shoe Customization Workshop, Free Waffles and Boot Preview
12:30pm to 2:00pm:
Hit Run – Pros and MVPs join together to combine skills and style to earn cash on a custom hit run
March 30, 2019
FINAL for PROS and ALL MVP'S
10:00am to 4:00pm:
DJ spinning on the mountain
10:00am to 4:00pm:
Free Waffles and Boot Preview
10:00am to 12:00pm:
MVP and Pro Expression Session + Cash for Tricks
1:00pm to 4:00pm:
Creative Session with rewards for creative lines and tricks + Van Doren Best Trick – Winner Take All!
Following an international eight-stop tour around the world seizing the best mother nature has to offer and honouring the slogan of "Style is Everything", the Hi-Standard Series grand finale at Mt. Seymour will bring together all the regional men and women MVPs from Canada, South Korea, Russia and the United States to ride alongside the Vans global snow team and local BC talent for their last chance to claim the ultimate 2019 Series MVP title.
The final event will also award the "2019 Hi-Standard Best Creative Obstacle" to the winning park crew for the most creative design execution of a flat box, a mail box and a Sidestripe rail, utilized for the event's Vans Doren Best Trick. The park crew winners will be outfitted in 2019/20 Vans snowboard boots, and Vans MTE footwear and apparel.
In addition to the snowboard jam, Vans will present a shoe customization workshop hosted by a different featured artist in each city. Spectators and family members can enter their personalized designs to win a pair of their very own customized Vans. Fans and competitors can also expect to see familiar faces from the global Vans Snow team throughout the tour.
Follow Mt. Seymour on Facebook and Twitter and use the hashtag #VansHiStandard for more information.