Since the 1930s, CiTR has been kicking around Vancouver, UBC, and the Lower Mainland in some form. I've visited it in the station on a few occasions for interviews and I tune in to hear everyone's favourite music historian (and best interviewer in the industry) Nardwuar. CiTR is a non-profit and non-commercial station, and what I didn't know is that all DJs are volunteers.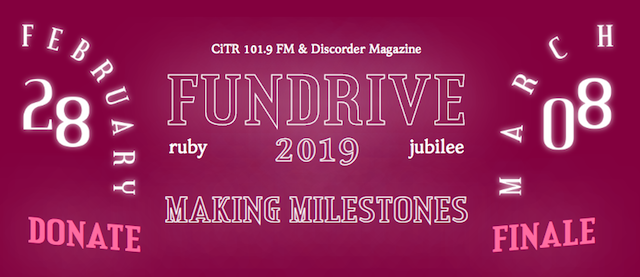 CiTR Fundrive 2019
For their annual Fundrive this year, running February 28 to March 8, 2019, they have some great perks for donors who help their reach their $40,000 fundraising goal. All donors will be thanked on the CiTR website and in the March issue of Discorder Magazine, or you can choose to be anonymous. You can also call in to pledge and receive special prizes on your favourite show.
"In our capacity as a media organization that works in radio, and later in print publication through Discorder Magazine, we've been able to support, highlight, and empower members as artists and media producers to become autonomous and considerate community members. We're also able to use our platforms not just as a springboard for local creatives, but also as a space for under and misrepresented communities to create content that is reflective of their experiences and can be shared on their terms."
CiTR is more than "college radio" but that term means a lot in our household. It's where John got his start (at KRUI at the University of Iowa) and it's how he found his true calling — and so, so much cool music that he so graciously shares with me.
Finale Party
Where: Red Gate Arts Society (1965 Main St, Vancouver)
When: Friday, March 8, 2019 at 8:30pm
Tickets: $10 in advance or $12 at the door. RSVP on Facebook for the latest event info.
Consider a donation to this important media voice, for many reasons that might hit close to home for you, up to and including the awesome patches, tote bags, socks and unique mixtapes donors can receive. If you'd like to call in, do it today (Friday, March 1, 2019) during our pal Nardwuar's show, as he's also set a personal fundraising goal. Dial (604) 822-8648 or indicate "Nardwuar the Human Serviette" online when you make your donation.