Things are heating up at Vancouver's Brazilian Carnaval on March 1st. Tickets are on sale now for this lively party featuring Sambacouver, Bloco Sambatá, Samba Fusion, and DJ Nanda, playing the best Brazilian hits.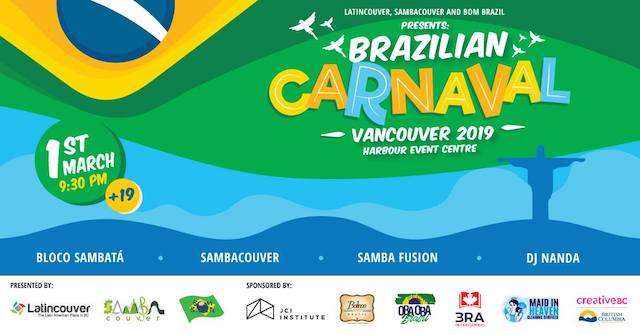 Vancouver's Brazilian Carnaval
Where: Harbour Event Centre (750 Pacific Blvd, Vancouver)
When: Friday, March 1, 2019 at 9:30pm to 3:00am
Tickets: Available online now. Until February 25th tickets are $25, $45 for VIP. February 26th onward, tickets will be $35.
VIP guests will receive an Abadá (special t-shirt they need to wear on the day of the event and can be customized by each guest) along with access to artistic makeup during the event brought to you by JCI Institute – Fashion Beauty Makeup Program, access to the most comfortable and exclusive areas at the party, exclusive access to buy drinks at private bar for VIP guests.
Vancouver's Brazilian Carnaval is presented by Latincouver, Sambacouver and Bom Brazil. Follow Latincouver on Facebook and Twitter for more information about their events throughout the year.
Latincouver creates physical and virtual spaces to allow for Latin American culture, business and social interaction within a Canadian context to build a strong community that supports each other to grow in British Columbia.