New summit infrastructure has been proposed for the Sea to Sky Gondola in Squamish that would include a tree walk experience as a part of their next level of growth. This accessible path would wind 34 metres into the sky, offering soaring 360° views and access for guests of all ages and abilities.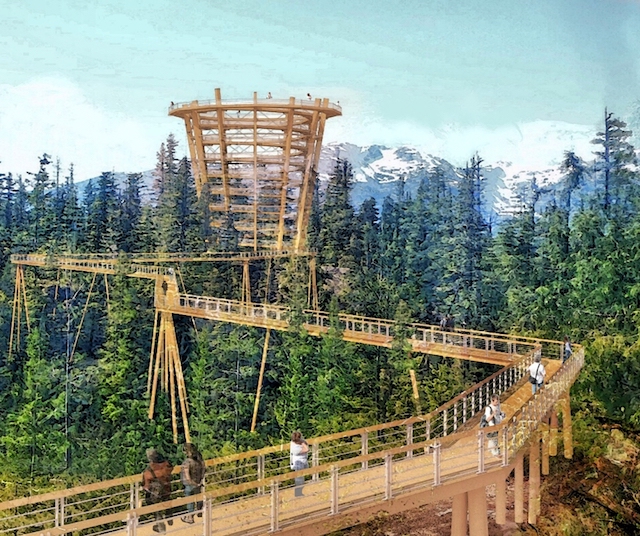 Elevated Tree Walk Proposed for Sea to Sky Gondola
The elevated trail experience would start at the Summit Lodge and lead guests on a 2.5km return trip through the trees and over wetlands along Panorama Ridge. This would be a significant multi-million-dollar infrastructure investment for the Squamish-based tourism destination that opened in the spring of 2014.
Pending approvals, the iconic structure would be the first of its kind in North America and would be designed to integrate into nature from all angles and viewpoints beautifully. The tree walk will gently wind around a structure that draws visitors from the base, through the treetops, and up high into the clouds.  The unique, spiral architecture will not only offer panoramic open-air views, but will also provide cover over the walkway for a year-round, weather-independent, sightseeing experience that will enthrall adventurers of every ability.
Prior to construction the project is subject to First Nations engagement as well as local and provincial government approvals. The Sea to Sky Gondola has received the appropriate development applications from the Squamish Lillooet Regional District with the goal to be breaking ground in fall 2019 and opening in spring 2020.
For more information, follow the Sea to Sky Gondola on Facebook and Twitter.