The JCC of Greater Vancouver 's 26th Annual JCC Sports Dinner is coming up on March 5th with special guests Joe Montana and Jerry Rice. The event includes spirited live and silent auctions, great food, outstanding company and important networking opportunities along with a tribute to Greg Douglas.
Greg Douglas aka Doctor Sport
Greg Douglas, aka Dr. Sport, has been one of the most prominent sports journalists and broadcasters in Vancouver over the last five decades. He was tagged with the nickname Dr. Sport by friends on a Maui golf course years ago when an annoying Hawaiian radio announcer concluded every item of his sportscasts with the words: "How do I know? Because I'm Doctor Sport!"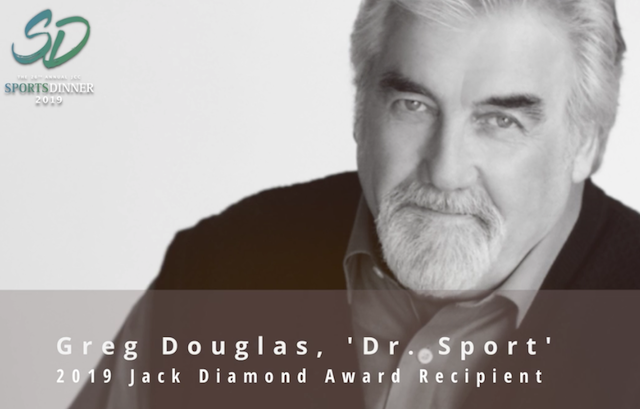 Born in Sault Ste. Marie, Ontario, his first on-air experience came about when he smuggled a portable radio to school in his lunch box and got caught listening to the call of a world series baseball game. His 'punishment' was to provide game reports over the PA to the entire school population for the balance of the series.
That led to a radio job with local station CKCY, and eventually to him becoming the youngest sports editor of a daily newspaper in Canada with the Sault Daily Star when he was 18 years old. Greg left the Sault for Toronto to work for Broadcast News, checking in weekly with legendary Toronto Star sports editor Milt Dunnell, pestering him for work.
Mr. Dunnell recommended him to Vancouver Sun managing editor Erwin Swangard, who hired Greg in 1966 to cover the Mounties of the Pacific Coast Baseball League and Canucks of the Western Hockey League. Living at the old Blackstone Hotel on Granville Street, Greg used his first Sun paycheck to purchase his portable Smith-Corona typewriter from Arnold's Pawn Shop next door.
His first radio gig in Vancouver was with CKWX, when a young Jim Robson hired him to cover the Mounties' spring training baseball camp in Florida. Greg joined the Canucks as public relations director in 1968-69 and stayed with the team through its NHL expansion years until 1977, when a management change resulted in a front office shake-up. Greg formed his own sports marketing company and became an early pioneer of the multi-form media fraternity, contributing sports coverage for various radio, television, newspaper and magazine outlets.
Greg was inducted into the BC Sports Hall of Fame twice, the first time in 2006 in the team category as a member of the WHL Vancouver Canucks, and then in the media category in 2010. He has been honoured with numerous accolades and Hall of Fame inductions but he says his proudest achievement has been having the opportunity to mentor many young men and women in the sports broadcasting and journalism fields.
Greg currently works as a media relations and special events consultant for Hastings Racecourse and vividly remembers the days of Jack Diamond's ownership of the track. He has been a supporter of the JCC Sports Dinner for many years.
Greg will be named recipient of the 2019 Jack Diamond Personality of the Year Award at the JCC Sports Dinner on March 5th.
For more information about the JCC Sports Dinner, follow along on Twitter, Facebook, and Instagram.
Miss604 is the proud Social Media Sponsor of the JCC Sports Dinner