Experience sponsored by the Magnolia Hotel & Harbour Air
I had no idea what Chaider was until the spicy aroma tickled my rosy red nose when I walked into the familiar warmth of the lobby at Victoria's Magnolia Hotel & Spa. I has just wheeled my carry-on two blocks up Courtney Street from the Harbour Air Seaplane Terminal in the historic inner harbour on a blustery winter's day. The glimmering urn next to the check-in counter contained chai-spiked cider, a twist on the usual welcoming beverage served up to all guests, and a taste of the hospitality and charm that has earned the hotel nation-wide awards and accolades.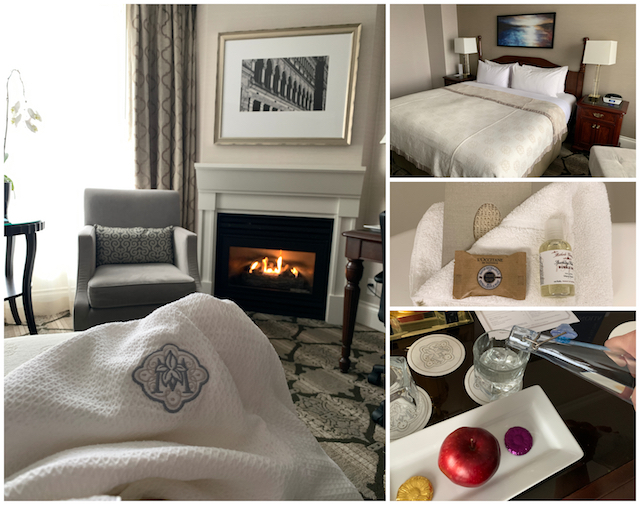 I first visited the Magnolia on a girls weekend with Keira-Anne back in 2010. We spent the weekend alternating between spa flip flops (downstairs) and the slippers provided in our room, gazing out at the twinkling Legislature buildings. Since that time I have been back with John a few times for delicious menu introductions, romance packages, and even a few work trips (for both him and me).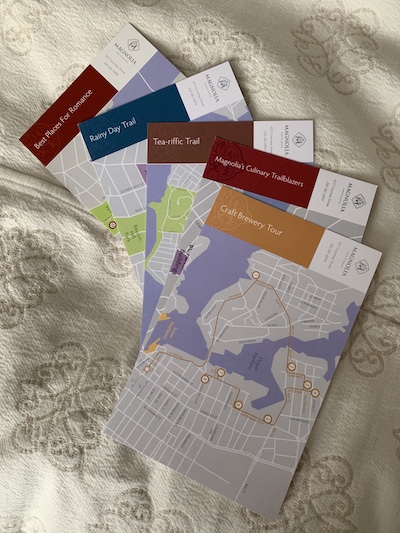 Along with the lobby cider (or lemony iced tea in the summer) there are other touches we enjoy year-over-year. The glass bottle of water in our room when we check in, along with a chocolate and apple for each guest. Robes and slippers in the closet, and Saltspring Soapworks bubble bath perched on the tub.
The Magnolia team thinks of everything, and while it's tempting to lay about in your robe in front of a Diamond Room fireplace all day and watch rainbows form across the harbour (which I did rather enjoy over the Christmas holidays) they have handy Curated Trail Maps so that you can get out and experience the very best of the capital city.
If you're looking for teas, tapas, running routes, bike trails, and more, they have colourful cards that can be your guide.
The Courtney Room
Of course there have been some changes over the least decade, including room renovations, tech upgrades (even minor conveniences like updated iPhone docks next to the bed that don't require an adapter) and the hotel's restaurant. The Courtney Room sprang to life in the spring of 2018 after a complete down-to-the-studs remodel. The restaurant has an inviting Art Nouveau refresh and Chef Chris Klassen's menu celebrates Canada's local and seasonal products with a classic French twist – including house-smoked meats. It's had such a great launch that it was recently name #10 Best New Restaurant in Canada!
Charme de L'Île
Island charm, Vancouver Island's own style of sparkling wine and in particular the bubbly – from Mill Bay's own Unsworth Vineyards – that goes into a French 250 in the Courtney Room along with Empress 1908 gin, local honey and lemon.
Enjoy Instagram-worthy cocktails in the lounge, which definitely taste as good as they look. There are inventive house cocktails listed in the menu or you can ask the mixology staff for recommendations based on your taste or preferred spirit. I had The Legend of Massimo with vodka, house made limoncello, Manitou, fresh lemon, pistachio syrup and a sprinkling of nutmeg on top. Not too sweet or sour, it was sinfully smooth and I'm a sucker for any house made limoncello.
You can head to the dining room upstairs for a decadent dinner with options like Cheam View Pork Belly & Scallops, Yarrow Meadows Duck Breast, or Beef Tenderloin Oscar, or stay in the lounge for hearty Happy Hour treats like the signature Potatoes Courtney, Mushroom Stuffed Mushrooms, Fried Chicken or Gruyere Mac & Cheese.
There's a reason that year after year, the Magnolia Hotel in Victoria has been named one of the top hotels in the country for luxury and romance. Their aforementioned packages really can't be beat! Coming up this winter/spring they have their Bed, Bubbles and Brunch special:
Indulge in an elegant room with two-poster bed and floor to ceiling windows, sink into a deep tub with Saltspring Soapworks sparkling bubble bath and pop the cork on a bottle of sparkling wine. Linger over brunch in The Courtney Room restaurant the next morning before exploring beautiful Victoria's shopping, galleries and museums.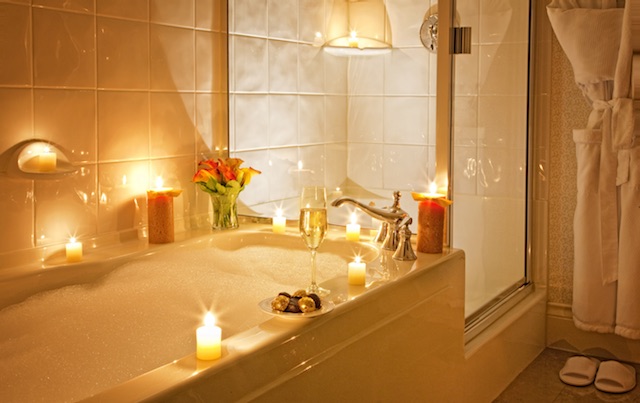 Book online or call 1-877-624-6654 to find out more. The package runs until March 31, 2019 with rates starting from $235 per night. Rates are for double occupancy, exclusive of tax and vary by room type and travel dates.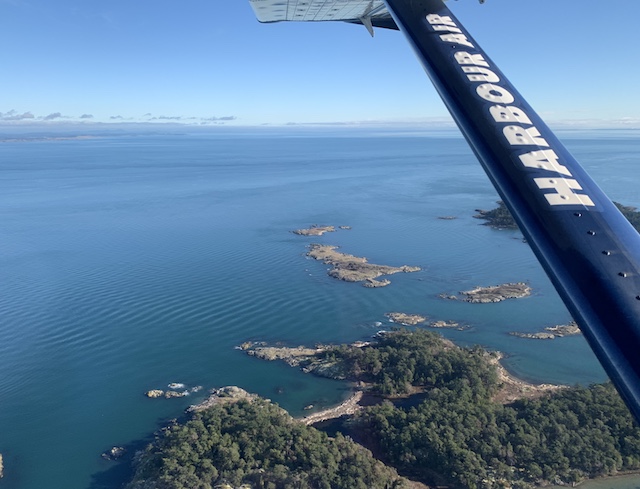 You'll love the location, the room decor, brunch, and your soothing baths (complete with whisk to whip up the biggest bubbles). Even better yet, take a Harbour Air seaplane from Downtown Vancouver to Downtown Victoria. It's 35 minutes and aside from getting there quickly, it's so scenic! Definitely a great start to any island getaway.
Finally, if you go, please report back to me to let me know what the lobby welcome beverage was being served so I may grab a virtual to-go cup and be vicariously whisked away to this dreamy location. Much appreciated!