Lights, bubbles, movements and sounds create a new illuminating, interactive experience during Sea of Lights at the Vancouver Aquarium, on now until January 6, 2019.
Sea of Lights at the Vancouver Aquarium
Where: Vancouver Aquarium in Stanley Park (845 Avison Way)
When: Daily until January 6, 2019 10:00am to 5:00pm
Tickets: $38 (adults), $30 (senior 65+, student), $21 (child 4-12), free (child 3 and under)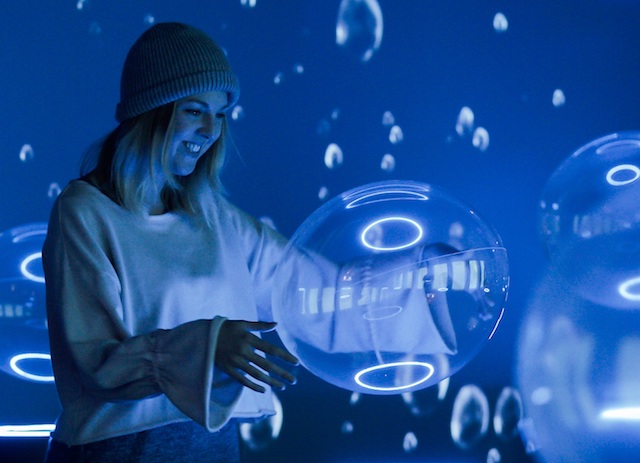 Explore the sensations of the underwater world in Bubbles, by Tangible. Get playful as you surround yourself with bobbing bubbles, glimmering lights, and soothing sounds of the deep blue and let your imagination take you on a wondrous ocean dive in the Underwater Dolphin Gallery. Bubbles is the newest creation by the award-winning Vancouver-based design firm Tangible who, since 2006, has been creating public artworks and interactive light installations for audiences around the world. Canadian-born composer Adam Lastiwka created the soundscape for the installation.
More Holiday Happenings
Watch everyone's favourite holiday guest – Scuba Claus – dive daily in the Strait of Georgia habitat until December 24th. Enjoy the wave of childlike wonder as you watch Rudolph the Red-Nosed Reindeer in the 4-D theatre where this traditional tale comes alive with wondrous sights, sounds and sensations. Marvel at Vancouver's most shocking holiday display as you stand in the glow of the Electric eel-powered Christmas tree in the Teck Connections Gallery. And delight in the magic of the season as you watch the enchanting jelly snow globe display in the Tropics Gallery.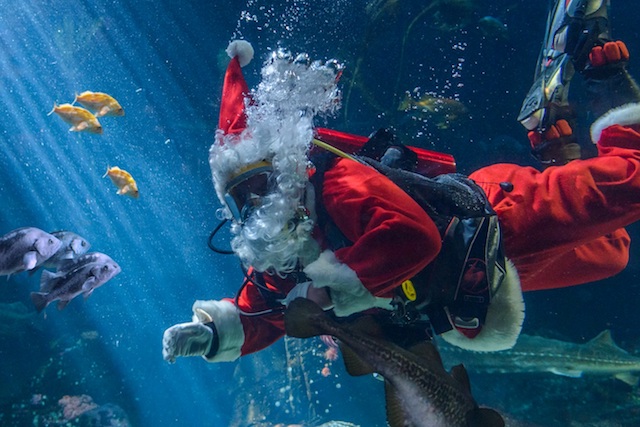 The Vancouver Aquarium gift shop is also a great place to find ocean-themed gifts for all ages along with local art, t-shirts, toys, and more. Purchase presents that support the conservation of marine life, reduce single-use plastic consumption and ocean plastic pollution, and encourage sustainable seafood harvesting practices. Members get up to 20% off on-site purchases too!
Follow the Vancouver Aquarium on Facebook and Twitter for more information.