"We'll go over it once in English and then a second time in Reindeer," Santa said over the loud speaker of an Air Canada Dash 8. With the help of some elves from the Air Canada Jazz team, Santa Claus himself led safety demonstrations and songs on a very special flight filled with Canuck Place kids and families.
Canuck Place Santa Flight
Gathering at Signature Flight Support Terminal at YVR, dozens of families arrived for an exclusive opportunity hosted by Canuck Place. Gathered in the pre-flight lounge, Spider-Man and a Storm Trooper, and Darth Vader greeted the children as an Air Canada prop plane pulled up with Santa waving from a hatch above the cockpit. He came into the lounge, led the group in some carols, and everyone boarded for a flight up to Whistler and back.
"What an afternoon! 8 years going and the Flight with Santa is just as incredible as it was the first year," says recreation therapist Gillian Lagambina. "There is nothing more exciting than seeing all the children and families up against the large window at Signature Flight Support watching Santa arrive in his Dasher – 8."
"Wide open eyes, smiles, jumping up and down, clapping, tears of excitement – this is what makes this event so special. Families and friends come together to celebrate and have fun. There is so much laughter and love as Santa greets the children, sharing silly jokes and his funny renditions of our favourite Christmas Carols. The love and care put into making this day is a success is overwhelming. There are so many firsts, unforgettable moments and memories made."
There was laughter, smiles, selfies, and lots of high-fives from Santa. Canuck Place provides outings like this, whether they are simple movies nights or elaborate excursions, to create memories and moments that can be cherished forever.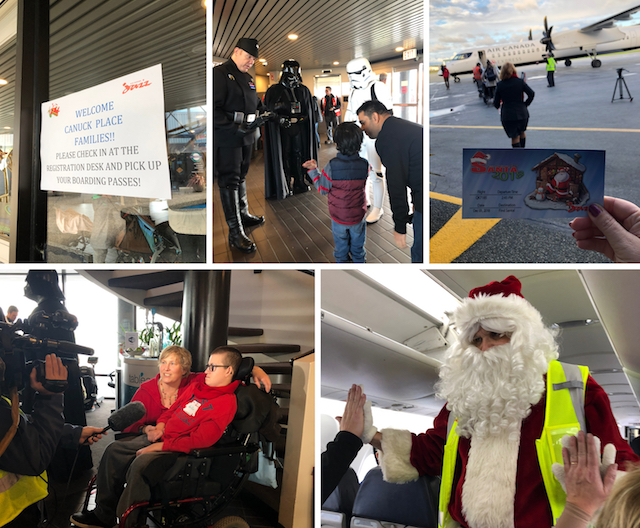 "For our Canuck Place families these experiences and times together with family and friends old and new, are so special and will always be remembered," adds Gillian. "What I love the most though, is that it shows children and their families that ANYTHING is possible!"
Special events like the Santa Flight allow Canuck Place children and families the opportunity to savour life together. Whether a life is measured in years, months, or days, Canuck Place believes that every life is precious. This holiday season, Canuck Place invites you to light a life in honour of Canuck Place children. Visit canuckplace.org/donate »
Follow Canuck Place Children's Hospice on Facebook and Twitter for more information.
Miss604 is a proud blog partner of the annual Canuck Place Gift of Time Gala