BC's largest outdoor carolling competition, Yule Duel, returns to the streets of Gastown for a fourth consecutive year. Hundreds of voices from more than 20 of Vancouver's best choirs will again echo down the cobblestone streets in support of May's Place Hospice.
Yule Duel Choir Battle in Gastown
Where: Water Street in Gastown
When: Thursday, December 6, 2018 6:00pm to 9:00pm
Admission: FREE! RSVP on Facebook here »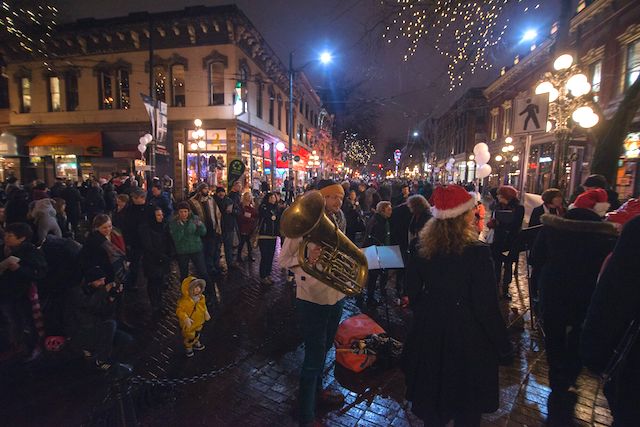 Yule Duel attracts thousands of spectators each year, and it's quite the sight! Visitors wandering down Water Street will see 20 choirs with singers of all ages stationed along the way. They'll be performing holiday season favorites sung in a range of languages and choral styles including rock, pop, gospel, and barbershop, as each choir tries to stave off elimination in the competition.
For a donation of $5.00, spectators can buy voting ballots to help their favourite choirs get into the finals for the dueling sing-offs. Funds raised will go to May's Place, a hospice providing compassionate end-of-life care to the most vulnerable in Vancouver's downtown eastside.
The evening includes special mainstage performances by Dutch Robinson and The Marcus Mosely Chorale.
Follow Yule Duel on Facebook, Instagram and Twitter.
Miss604 is a proud sponsor of Yuel Duel for the third year.