TELUS presents the Vancouver Santa Claus Parade, the largest Christmas parade celebrated in Western Canada, on the first Sunday in December. Join in the free, family-friendly fun with live entertainment and activities, along with supporting the Greater Vancouver Food Bank and the CKNW Orphans' Fund.
Vancouver Santa Claus Parade
When: Sunday, December 2, 2018 12:00pm
Parade Route: The route will travel from West Georgia and Broughton, then head east along West Georgia, turn south on Howe and finish at Howe and Davie.
This year's Vancouver Santa Claus Parade will feature marching bands, dance troupes, festive floats and community groups, which entertain over 300,000 spectators.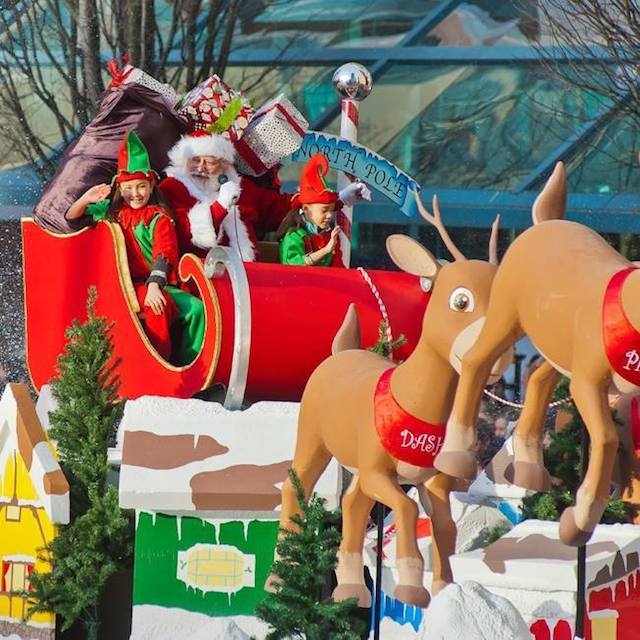 A very special part of the TELUS presents the Vancouver Santa Claus Parade is celebrating the "Spirit of Giving." Each year, on parade day, volunteers collect non-perishable food items and monetary donations on behalf of the Greater Vancouver Food Bank Society.
For every $1 donated, the Food Bank can purchase $3 worth of food! We are also thrilled to announce our new partnership with the CKNW Kids' Fund! If just 200 people donate $10 each, the CKNW Kids' Fund can send a child with special needs to speech therapy, tutoring, or even ensure they have custom hearing aids.
More Activities and Fun
Breakfast with Santa at the Fairmont Hotel Vancouver (8:30am to 10:30am)
A delicious breakfast buffet and exclusive meet & greet with Santa before the TELUS presents the Vancouver Santa Claus Parade. $40 per adult, $20 per child. Full pre-payment at time of booking, inclusive of taxes & gratuity. Reservations 604-647-0517.
Christmas Square (10:00am to 12:00pm)
Parade spectators are encouraged to arrive early for pre-parade fun. The free festivities begin at 10:00 a.m. with two hours of family entertainment at the Christmas Square the North side of the Vancouver Art Gallery. The Christmas Square includes a Food Bank drop off, face painting, Letters to Santa station, and an entertainment stage featuring Live music by LeftCoast.
TELUS Photos with Santa (2:00pm to 4:00pm)
Free photos with Santa after the parade at TELUS Garden (510 W Georgia St)
Vancouver Santa Claus Parade presented by TELUS on Twitter, and Instagram along with the tag #TELUSSantaClausParade.