Remembrance Day, November 11th, is a day to remember the courage, service and sacrifice of thousands of men and women, and to honour them by never forgetting them.
Your city will most likely have a service or ceremony on November 11th, around its local cenotaph, and to make things easier I have rounded up a list of events (that have been publicized, as of the date of publishing of this post) that you can attend.
If I am missing an event, please feel free to leave a comment with details and I will be sure to add it to the list.
Remembrance Day Ceremonies Around Vancouver
Event: Vancouver Ceremony at Victory Square
Where: Victory Square Cenotaph at W Hastings St and Cambie St
When: 10:00am
Details: The program at Victory Square begins with a performance by the Vancouver Bach Youth Choir and Sarabande starting at 10:00am. At 10:10am veterans, military marching units, and bands will be led to Victory Square by the Vancouver Flag Party for the cenotaph ceremony starting at 10:30am.
Shortly afterward, there will be a combined performance by Vancouver Fire and Rescue Services and the Regimental Pipes and Drums of the Seaforth Highlanders of Canada.
At 11:00am the Last Post will be sounded. There will be Two Minutes of Silence, during which a 21-gun salute by the 15th Field Artillery Regiment will be heard from Portside Park. Lament and Rouse will follow. The Royal Canadian Air Force will conduct a fly-past moments later, weather permitting.
The enduring In Flanders Fields will then be sung by the Bach Youth Choir and Sarabande and wreaths will be placed at the Cenotaph.
The Remembrance Day parade will begin once the ceremony finishes. Participants will march west along Hastings past the reviewing stand between Homer and Richards, turning right at Richards, east on Cordova, then south on Cambie. The veterans' section of the parade will march Route 1, marching west along Hastings Street past the reviewing stand and disperse.
Additional Remembrance Day observances in Vancouver:
9:00am: Royal Vancouver Yacht Club, 3811 Point Grey Rd (view from Hastings Mill Park)
10:30am: Memorial South Park Cenotaph, 41st Ave and Windsor St
10:40am: Japanese Canadian War Memorial in Stanley Park
10:45am: Grandview Park, 1200 block of Commercial Drive
12:30pm: Chinatown Memorial, Keefer at Columbia streets
Event: Centum Corpora at Mountain View Cemetery
Where: Mountain View Cemetery (5455 Fraser St, Vancouver)
When: 11:00am to 11:30am
Details: A musical meditation for 100 brass instruments to mark 100 years since Armistice Day. Created by our Composer in Residence, this unique event will offer a meditative and reflective Remembrance Day event. The 100 brass players will each be representing a WW1 war dead, and will be standing behind that soldier's headstone. This event will be outdoors in the Jones 45 section, no matter what the weather. Produced by The Little Chamber Music Series That Could in association with the Homegoing Brass Band.
Event: West Vancouver Service
Where: Memorial Park (Marine Drive between 19th & 20th St, West Vancouver)
When: 10:45am to 11:30am
Details: Parade starts at 10:45am with service starting at 10:55am. The Royal Canadian Legion – West Vancouver Branch #60 holds the sacred trust of ensuring the tradition of Remembrance is observed by Canadians every year at the 11th hour on the 11th day of the 11th month. This service is for the public to gather and honour our veterans and those currently serving in the Canadian Armed Forces. All members of the public are welcome and encouraged to attend.
Event: North Vancouver Remembrance Day
Where: Victoria Park Cenotaph (100 block of East Keith Road)
When: 10:30am to 11:30am
Details: The 2018 service will be marking the end of WW1 (Armistice Day), 100 years ago. All members of the public are welcome and encouraged to attend.
Event: New Westminster Remembrance Day
Where: 10:30am to 11:30am
When: City Hall Cenotaph (511 Royal Ave, New Westminster)
Details: Outdoor service at Cenotaph located in front of City Hall. This years' service pays special tribute to the Merchant Marine. The service will commence at 10:30am. Parade assembly 10:25am at Queens Avenue and Sixth Street. Wreath pick up from tent on City Hall front lawn beginning at 8:00am. All members of the public are invited to attend.
Event: Richmond Remembrance Day
Where: City Hall Cenotaph (6911 No. 3 Road, Richmond)
When: 10:20am
Details: A parade will step off at 10:20am towards the cenotaph, which is located on the east side of City Hall. Parade units include Canadian veterans, members of the Royal Canadian Legion and Army, Navy and Air Force Veterans in Canada; Richmond's permanent Canadian Forces Unit 39 Service Battalion and representation from public safety agencies and cadet organizations. Official ceremonies at the City Hall cenotaph will begin at 10:40am. There will be two minutes of silence at 11:00am, which will be followed by wreath-laying.
When the service ends, the public is invited to a Remembrance Day reception in the City Hall Galleria. This is a free event where people can warm up with a hot drink and something sweet, talk about the ceremony and connect with other community members, and view a number of interesting Remembrance Day displays put together by the City of Richmond Archives and the Friends of the Richmond Archives. Receptions guests will also be treated to music by Richmond Peace Children's Choir.
Event: North Burnaby Remembrance Day
Where: North Burnaby Cenotaph, Confederation Park (Willingdon Ave & Penzance Dr)
When: 10:40am
Details: Parade and Ceremony by the Royal Canadian Legion Branch #148 – North Burnaby. Parade begins at 10:40am from the underground parking lot of the McGill Library, 4595 Albert Street. Parade Route: west then south through the Confederation Centre parking lot onto Albert Street. East on Albert Street to Alpha Avenue, then north on Alpha Avenue into Confederation Park towards the Cenotaph.
Event: South Burnaby Remembrance Day
Where: South Burnaby Cenotaph (Bonsor Park at Imperial St and Nelson Ave)
When: 10:30am
Details: Parade and Ceremony by the Royal Canadian Legion Branch #83 – South Burnaby. Parade begins at 10:30am from Fire Hall #3, 6511 Marlborough Avenue. Parade Route: proceeds west on Bennett Street, south on Nelson Avenue and southwest onto Jubilee Avenue to the cenotaph at the corner of Nelson Avenue and Imperial Street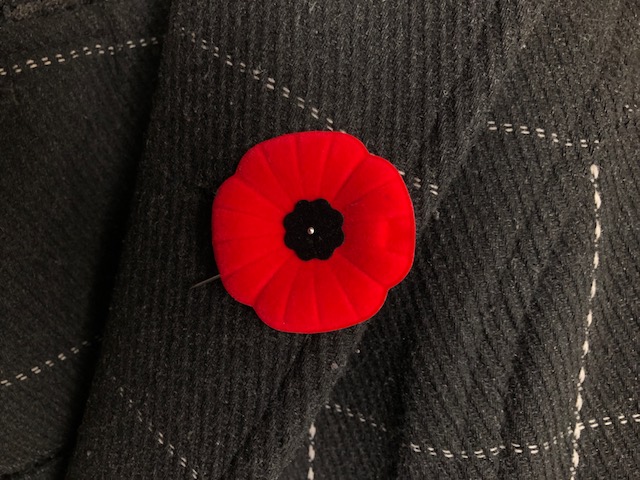 Event: Surrey Remembers
Where: Veterans' Square (17671 Highway 10 (56 Ave)
When: 9:30am to 1:00pm
Details: Take in the Remembrance Day service at the Cloverdale Cenotaph in Veterans Square at 10:25am on Sunday, November 11. After the ceremony, warm up with activities at both the Museum of Surrey and the Surrey Archives.
At the Museum of Surrey: The Surrey Stories Galleries and Textile Centre will open at 9:30am. Enjoy coffee and hot chocolate while supplies last. You can also watch war documentaries in the theatre. There will be crafts for children.
The museum will close from 10:30am to 12:00pm while the ceremony takes place outside in Veteran's Square. The entire museum will open at 12pm with crafts, a harpist and a poetry performance in the threatre by Renee Saklikar and Ishbel Newstead. The museum will remain open until 5:00pm.
At the Surrey Archives: Stop in with the family for coffee, tea and cookies. While the kids colour, take a look at wartime records and artifacts. The building will close at 1:00pm.
Additional Remembrance Day observances in Surrey:
10:45am to 2:00pm: Surrey Centre Cemetery (16671 Old McLellan Road, Surrey)
10:00am: Veterans Square (17710 56a Ave & 17671 56 Ave, Surrey)
10:00am: Newton Seniors Centre Park (13775 – 70 Ave Surrey)
10:30am Crescent Legion (2643 – 128 St, Surrey)
10:25am Whalley Legion (13525 – 106 Ave, Surrey)
10:00am Port Kells Community Hall (18918 – 88 Ave)
Event: Langley Remembrance Day
Where: Douglas Park Cenotaph (20550 Douglas Crescent, Langley City)
When: 10:45am
Details: Everyone is welcome to join Langley Legion Branch 21 at the Remembrance Day Ceremony at the Douglas Park Cenotaph on Sunday November 11 to honour and commemorate the sacrifices made by members of the Armed Forces and civilians in the times of war. Please arrive prior to 10:45am. Douglas Crescent between 204 and 206 will be closed, as well as Park Avenue. There will be no parking at Douglas Park that morning so plan to park elsewhere in the downtown core or Timms Community Centre.
Event: Remembrance Day Service in Abbotsford
Where: Thunderbird Square on Veterans Way, Abbotsford (behind City Hall)
When: 10:15am to 11:30am
Event: Coquitlam Remembers
Where: Cenotaph in Blue Mountain Park (975 King Albert Ave, Coquitlam)
When: 9:45am
Details: The Royal Canadian Legion, Branch 263, will be hosting a Remembrance Day ceremony beginning at 9:45am at Winslow Centre (1100 Winslow Ave), followed by a parade starting at 10:30am along Winslow Avenue to the Cenotaph on Veteran's Way. Following the Cenotaph Service at 11:00am, all are invited to follow the parade of veterans and current service personnel to the Royal Canadian Legion, Branch 263, located at 1025 Ridgeway Ave.
Event: Port Coquitlam Remembrance Day
Where: Wilson Centre (2150 Wilson Ave)
When: 9:30am and 11:00am
Details: This is an indoor service and there is seating available. Following the Wilson Centre Service, veterans and members of the Royal Canadian Legion, Branch #133 will lead a parade from the Wilson Centre along Wilson Avenue to Shaughnessy Street to the Cenotaph services at Veterans Park.
Event: Port Coquitlam Cenotaph Remembrance Service
Where: Veterans Park (2580 Shaughnessy St, Port Coquitlam)
When: 11:00am
Details: This is an outdoor service. Seating is limited and reserved for the veterans in attendance. Those attending the Cenotaph Remembrance Day Service are encouraged to dress warmly and to bring an umbrella in the event of rain. Port Coquitlam's Remembrance Day services are sponsored by the Royal Canadian Legion, Branch #133. The Royal Canadian Legion is the largest veteran-based community service organization in Canada and is dedicated to the perpetuation of remembrance of those who served and died in the service of our country and in the care of those who have survived.
Event: Port Moody Remembrance Day
Where: Kyle Centre (125 Kyle St, Port Moody)
When: 9:30am
Details: 9:30am Non-denominational service at the Kyle Centre, followed by 10:30am form up at Kyle Centre parking lot and parade around block to Arts Centre (Kyle/St Johns). 11:00am 2-Minute Silence, Act of Remembrance & Laying of Wreaths at Arts Centre Monument, 21-Gun Cannon Salute – Seymour Artillery. Events follow throughout the rest of the day, with a buffet and refreshments, concerts and more at the Kyle Centre until 9:00pm.
Event: South Delta Remembrance Day
Where: Cenotaph at Memorial Park (47 Ave & Garry St, Ladner)
When: 10:15am
Details: The Royal Canadian Legion Branch 61 and the Corporation of Delta invite you and your family to attend a parade and wreath laying ceremony in Ladner. The parade begins at the Legion branch (4896 Delta Street), at 10:15am. Ceremony to commence at the Cenotaph at Memorial Park in Ladner at 10:45am.
Event: North Delta Remembrance Day
Where: North Delta Social Heart Plaza (11415 84 Ave, Delta)
When: 10:40am
Details: Kennedy House Seniors Society and the Corporation of Delta invite you and your family to attend a wreath laying ceremony at the North Delta Social Heart Plaza. Following the ceremony, a public reception will be held at the North Delta Recreation Centre.
Other events, not on the 11th, include National Aboriginal Veterans Day (at Victory Square Cenotaph) on November 8th, and Threnody: Requiem and Remembrance presented by Vancouver Cantata Singers November 10th at Christ Church Cathedral.
Follow Canada Remembers on Facebook and Twitter for more information.